Do you have a textbook with listening activities that are way too hard for your students. It can certainly be frustrating, especially if you're required by the administration at your school to go through the book page by page.
Keep on reading for all the details you need to know about how to deal with this situation of a listening passage that is too difficult for your students..
Too Difficult Listening Exercises: What Can I Do?
A common question that people have related to teaching English abroad is the following:
"I'm just supposed to play listening tracks for my students, but they can't understand them. How can I help them? Should I just skip them and not worry too much about it?"
Strive for Twice! Or, Avoid
First of all, too difficult listening exercises are a really annoying problem for English teachers and I wish you luck. If you can avoid using them, this is the best option in many ways. Students often get frustrated and you, as the teacher can also feel frustrated trying to explain so many things, or trying to play the listening passage more than a few times.
Of course skipping it isn't always possible, especially if you have a co-teacher that insists on using them. As a general rule, listening twice is a good rule of thumb. If the students only need once, it's too easy. If they need three times, it's too difficult. Strive for twice so keep this in mind if you have a choice in which ones to listen to, and which ones to avoid!
But…in a pinch, three times isn't so bad. This is especially true in mixed level classes, where the best students may understand almost everything in the first run through. The average students in two times, and then the weaker students on the third try.
For the first run-through, give a gist listening task such as listening for some specific vocabulary, or answering some easy yes/no questions. Then, save the more detailed questions for the second time through.
Can't Avoid? Don't Give Up
One way to help our your students with listening is to give them some related pre-listening tasks? Just as you should orient your students to a reading passage, you should prepare them for listening. Show related pictures.
Pull out your KWL charts. Ask your students what they know about _____ topic. Ask them how they feel about ___ topic.
Pre-teach any necessary vocabulary or grammar patterns. Then listen. Ask and answer questions about the main idea, then listen again. Give your students some specific information to listen for as you repeat the passage the second time.
With a little bit of coaching, listening activities that are slightly too difficult can usually be mastered.
Transcripts Is it Possible to Get Them?
If you already do all those things, I would then suggest you get or make a copy of the transcripts. You can read them to your students before or after they listen to the recording, or leave the recording out entirely. A live voice is generally easier to understand, plus they should be accustomed to your accent.
You can alter your speech according to their needs: pause between each word (not very real world), pause between phrases and/ or chunks of information, slow down, and more easily repeat only a short segment of a listening passage. You should, of course, aim to reduce these adjustments over time.
Do you remember when the original Serial podcast came out? It was the most downloaded podcast of all time and I knew that one group of my students would be super interested in it. I also knew that it was slightly above their level. So, along with assigning the listening as homework, I gave them a link to the transcripts of them.
At our session where we were going to discuss the episode, they all brought in the transcripts along with notes and questions about things they didn't understand (mostly slang). I was so proud of them and this small thing (sending them the link) inspired some serious learning on their parts.
Difficult Listening Exercises: Don't Despair
The moral of this whole story is that if you're given a really difficult listening exercise and you're required to do it with your students, don't give up. There are things you can do to help them out and make difficult listening exercises useful.
Tips and Tricks for Classroom Management
If you teach elementary school students, the book you'll find extremely useful is ESL Classroom Management Tips and Tricks: For Teachers of Students Ages 6-12. In the book, you can:
Learn how to get the entire class involved.
Discover how to plan a lesson and organize your class.
Learn motivation and discipline strategies that work.
Get some tips for forging a strong, productive relationship with your co-teacher.
Prepare yourself with go-to activities for those "surprise" classes.
And so much more!
You can get the book on Amazon in both print and digital formats. You can read the digital version with the free Kindle reading app on any smartphone, tablet, Mac, or PC.
—>Buy ESL Classroom Management Tips and Tricks on Amazon today<—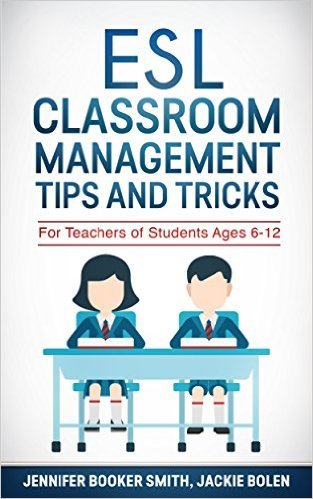 Have your Say about Difficult Listening Activities
What do you do if a listening exercise in your textbook is much too difficult? Leave a comment below and let us know how you handle this situation.
Also be sure to give this article a share on Twitter, Pinterest, or Facebook. It'll help other teachers, like yourself find this useful resource.
Last update on 2022-07-17 / Affiliate links / Images from Amazon Product Advertising API