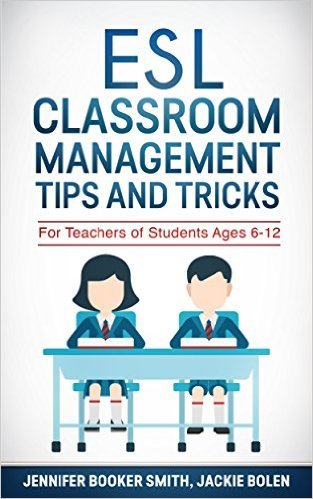 Are you struggling to manage your ESL classroom and feel like your head in maybe going to explode from the chaos and stress? Yes? Then you're certainly in the right place.
Help is here! Keep on reading for all the detail you need to know about ESL Classroom Management Tips and Tricks. If this doesn't help you get your classroom under control, then probably nothing will!
No Classroom Management Skills? I've Been There
Maybe you're kind of like me. I remember back to my first couple of years teaching kids in a hagwon (private institute) in South Korea when I had no idea what I was doing. The kids totally took advantage of this situation and I had very little control over my classroom.
Of course, this situation was really stressful for me and not much in the way of learning was happening. Over the years, I've figured things out, but I hope that I can help you level-up your teaching game and avoid the year or two of chaos in the ESL classroom.
A Few Tips about Classroom Management
If you want a few tips about classroom management, check out these articles. The book is like this, but just with way more detail and awesome stuff.
A Student Refuses to Participate. Here's What to Do
Giving Instructions: Tips for ESL Teachers
What do you think? Exactly what you might need for your English classes when teaching abroad? This is just a small taste of what you can find in the book.
ESL Classroom Management Tips and Tricks
Over on Amazon, you can get ESL Classroom Management Tips and Tricks: For Teachers of Students Ages 6-12. In the book, you'll:
Learn how to get the entire class involved.
Discover how to plan a lesson and organize your class.
Learn motivation and discipline strategies that work.
Get some tips for forging a strong, productive relationship with your co-teacher.
Prepare yourself with go-to activities for those "surprise" classes.
And so much more!
The book is available in both print and digital formats. The (cheaper!) digital format can be read on any smartphone, tablet, Mac or PC by downloading the free Kindle app.
Keep a copy on the bookshelf in your office as a handy reference guide. Or, the digital version on your phone for lesson planning and learning on the go. It really is that easy to have some better English classes with kids.
A Must-Read for Elementary School Teachers
If you teach English to elementary school kids, read the book, and don't pick up at least three things you can use in your class tomorrow, get in touch with me and I'll refund your money.
It truly is the book I wish I had when I first started teaching. And it certainly would have helped make me a better teacher much faster than just trying to pick stuff up on my own.
Ideal for Newbies, or Experienced Teachers Too
If you're just getting started out with teaching English abroad, then you're going to love this book. It'll help you avoid so, so, so many mistakes and will get your classes started off on the right foot. It's not unusual to get thrown to the wolves (large classes of children!) a few hours after getting off the plane. Read this book on the plane to get yourself ready, okay?
However, maybe you're an experienced teacher. Is this book a waste of time? Not at all! We're also confident that you'll pick up a few new tips or ideas to make your classes even better than they already area. Seriously. You'll love it.
Get your Copy Today
Get the book today, and have a less stressful class tomorrow. But, only if you want to get yourself some of that ESL awesome. Click the link below to learn more on Amazon and also to find the best prices:
—>ESL Classroom Management Tips and Tricks: For Teachers of Students Ages 6-12 on Amazon<—
More Tips and Tricks
Here is another teacher's take on managing their ESL classroom. Remember, clear rules are the key to preventing most problems you might encounter!
Have your Say about ESL Classroom Management!
What are your thoughts about teaching kids? Do you have any tips or tricks for effectively managing your classroom?
Leave a comment below and let us know what you think. Also be sure to give this article a share on Facebook, Twitter, or Pinterest. There are probably lots of other teachers who may find it useful.
Oh yeah, do you want to make some serious cash teaching English abroad? Have a look at the highest paying English teaching jobs abroad.