So, what's the deal with giving instructions to ESL/EFL students. Do you slow it down and make it simple enough? Or, is it good practice for the students to have to figure some stuff out?
Whatever your theory of teaching is, you'll probably be able to pick up some tips and tricks for giving instructions in the ESL Classroom. We'll include an introduction to the very important ICQ (instruction checking questions) and CCQs.
Keep on reading if you want to know the best way to give ESL instructions to your English learners.
Tips for Giving ESL Instructions 
I remember back to when I first started teaching and I would give what I thought were clear, concise instructions for a game or activity. I'd tell the students to start and they'd just look at me with these confused faces. Some would push through and attempt to do something, but it most often wasn't what I wanted.
The fault was not on the part of my students, it was with me. My instructions were too long and complicated and the exact opposite of what my students trying to learn English needed. I did eventually figure it out after I took a TEFL course.
#1: Wait until the Students are Ready
One problem is giving instructions before the class is ready to listen. This is critical in an ESL class, because comprehension is already difficult enough. Wait until the students are seated, calm, and ready to listen to what they need to do.
Chaos will ensue if only a few students out of the entire class understand what they need to do for the next activity they're going to do. My rule is that I won't start talking until ALL the students stop talking.
Only 1 person in my class speaks, while the rest of the class listens. This applies to me, as well as the other students.
#2: Use a Variety of Instruction Methods

Another common problem is giving instructions verbally. This is fine and something I do for every single activity in my classroom. However, you should consider giving them in some other way as well.
For example, you might want to make a PPT slide or write a few bullet points on the board. For more complicated things like homework, you'll probably want to make a handout of some kind for students to refer to.
#3: Did you Get that? 
I used to give a big, long list of instructions for something and then finish up with the ever-popular, "Got it?" Sometimes I'd mix it up and say something like:
"Okay?"
"Can you do it?"
Do you see what the problem is there? All the students are going to say yes, whether they understand what they need to do or not.
Instead, you'll want to use some ICQ's. You'll have to keep on reading to find out what they are. But, a quick hint. They're basically open-ended questions that check and see if students have actually understood the instructions.
Of course, I sometimes slip up and fall back into my old ways. But, I know it as soon as I do and strive to do better next time! It can be a hard habit to break.
#4: Don't Give too Many ESL Instructions at Once
The next issue is giving way too many instructions at once. Information overload really is a thing, so try not to inflict this on your students.
Keep your instructions as simple as possible, and let the challenge be the game, activity or assignment, and not figuring out how to actually do it.
It's the same with new English vocabulary words. A few words are better than a huge list which can be a little bit overwhelming.
#5: Eye Contact is Key
Here's something I've been guilty of for sure. Are you the type of teacher who talks while writing on the board? Yes? Well, your students likely have no idea what you're saying to them.
Write about what you want to write about. Then, turn around and talk to your students, making eye contact with them the whole time. This is just so much more effective than doing it while looking at the whiteboard.
#6: Speak Slowly when Giving Instructions
Okay, I know that this isn't just a problem for instructions, but it can apply to just about anything you might say in your English classes.
Beginners struggle to understand even simple things like making a group of 4 or open the book to page 23. Now, imagine that you're trying to explain a pretty complicated activity as your normal speed of speaking. Well, your students don't stand a chance!
Give them a break, and speak slowly. If you want to challenge their listening skills, doing it during a listening passage, and not while giving instructions for some other activity.
#7: Give Examples for just about Anything
You know the saying, "A picture says a thousand words?" This applies so, so, so much to giving instructions and using an example.
For some activities, you can take 10 minutes to explain something, or you can often do a quick example in 1-2 minutes and get your point across more effectively.
I usually do a combination of the two things. I'll give some basic, simple instructions. Then, I'll choose a student or two to do a quick example with me.
#8: Use Instruction Checking Questions
When I did the CELTA and DELTA English teacher certification courses, it was all about ICQ's. ICQ = Instruction Checking Questions. Instead of asking, "Got it?" or, "Do you understand?" it's far better to ask the following questions:
"How many minutes do you have to play the game?"
"Who is the winner?"
"If you roll a 6, what happens?"
"Who starts the game?"
"How many sentences do you need to write?
"What three rules do you need to remember?
Two Reasons why ICQ's are Useful
These ICQ's are useful for two reasons. The first is they confirm to you that the class has understood your initial instructions and show you if you need to clarify anything.
They also serve as a second chance for the lower-level students who might not have caught them the first time to play a bit of catch up. Use them frequently (and CCQ's-Concept Checking Questions for grammar and vocabulary points) and you'll find instructions less of a problem than they perhaps have been in the past.
Okay, but What's a CCQ? 
Now that you know what an ICQ is, maybe you want to know what a CCQ is? You've probably seen these two terms used kind of interchangeably.
CCQ stands for concept checking questions. Instead of checking instructions, you're checking if the students understand the concepts, either related to grammar, or vocabulary. Some examples include:
Am I taller or shorter than Min-Ji?
Is this correct? I didn't went to school yesterday.
ICQ vs CCQ: What's the Difference?
Let's do a quick recap. An ICQ is an instruction checking questions. A CCQ is a concept checking question and used to see if your student understands key grammar and vocabulary concepts.
Related: Top 10 ESL Grammar Activities and Games.
What Should You Keep in Mind When Giving Instructions to Adults?
When you give instructions to adults, there are a few things that you'll want to keep in mind. Here are some of my best tips:
Think relevant. Don't cover every single possible angle or exception. Just give the basics instructions, and when adult learners have a question or require clarification about something, they'll usually ask you.
Cognitive overload really is a thing! People can only keep a certain number of points in their working memory (the amount varies from person to person), so try not to overload your students.
Be direct. Subtleties often get lost in translation!
Allow for processing time. Most English learners require this, especially beginners. Give an instruction, and then pause before mentioning the next one.
For beginners, design simple games, activities and lessons. If you teach absolute beginners, things, like open your book to page 17, can be a lot to handle. Simplify your lessons and remember that less is more. This is true for giving instructions, but also for everything else.
Have you thought about the order? They should be logical, starting at the beginning and going to the end.
Make sure you have everyone's undivided attention before starting out. You'll want everyone's eyes to be on you, and also to make sure that nobody is talking.
Don't forget to use monitoring in the classroom to keep track of student progress.
What's the Result of Bad Instructions?
Usually, it's pretty obvious when you've given some terrible instructions. You might see some of the following things:
Dead silence when people should be starting the activity.
Students doing the wrong things during a game or activity.
Students talking in their first language to each other, instead of doing what you've asked them to do.
Nervous laughter.
It's best to just avoid this in the first place by giving some solid instructions, okay?
FAQs
There are a number of common questions that people have about giving instructions to English learners. Here are the answers to some of the most popular ones.
Why is giving clear instructions important in ESL teaching?
Giving clear instructions is important in ESL teaching because it ensures that students understand the tasks or activities they need to complete, promotes successful learning outcomes, and minimizes confusion or misunderstandings.
What are some strategies for giving effective instructions to ESL students?
Strategies for giving effective instructions to ESL students include using clear and simple language, using visual aids or gestures to support understanding, breaking down instructions into smaller steps, checking for comprehension, and providing examples or models when necessary.
How can teachers check for understanding after giving instructions?
Teachers can check for understanding by asking concept-checking questions, having students repeat or summarize the instructions in their own words, or demonstrating the task with a volunteer student. They can also observe students' actions during the task or ask follow-up questions.
Should instructions be given verbally or in written form for ESL students?
It is best to provide both verbal and written instructions for ESL students, as it helps reinforce understanding and accommodates different learning preferences. Verbal instructions should be clear and concise, and written instructions can serve as a visual reference.
How can teachers simplify instructions for lower-level ESL students?
Teachers can simplify instructions for lower-level ESL students by using basic vocabulary, short sentences, and familiar structures. They can also use visual aids, gestures, or real-life examples to support comprehension.
How can teachers scaffold instructions for ESL students with different proficiency levels?
Teachers can scaffold instructions by adjusting the level of support based on students' proficiency levels. This can include providing more visuals, breaking down instructions into smaller steps, or offering additional explanations or examples as needed.
Are there any specific language structures or phrases that can be used when giving instructions to ESL students?
Yes, using imperative verbs ("open," "write," "listen"), transition words ("first," "next," "finally"), and time expressions ("before," "after," "while") can help provide clarity and structure when giving instructions to ESL students.
How can teachers maintain students' attention and engagement during instruction-giving?
Teachers can maintain students' attention and engagement by using a clear and confident voice, varying their tone and pace, using gestures or visuals, and making the instructions relevant and interesting to the students' lives or interests.
What can teachers do if students still seem confused after receiving instructions?
If students still seem confused, teachers can rephrase or repeat the instructions, provide additional examples, check for specific points of confusion, or pair students up for peer clarification. They can also offer individual support to students who may need extra assistance.
Can students be involved in giving instructions in the ESL classroom?
Yes, students can be involved in giving instructions, especially in collaborative or group activities. This promotes student autonomy, strengthens their language skills, and allows them to practice giving clear instructions to their peers.
Like These Teaching Tips? There are Way More of Them!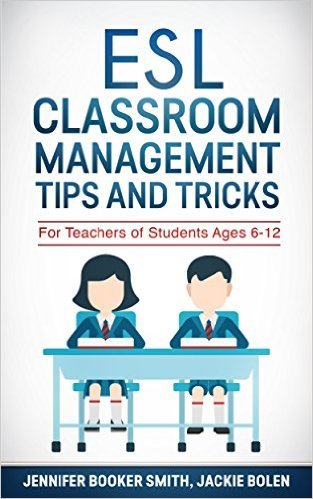 These tips about giving instructions are from the book ESL Classroom Management Tips and Tricks: For Teachers of Students Ages 6-12. So, if you found them useful, then you're most certainly going to love the book.
What Do you Cover in ESL Classroom Management?
In the book, you'll:
Learn how to get the entire class involved.
Discover how to plan a lesson and organize your class.
Learn motivation and discipline strategies that work.
Get some tips for forging a strong, productive relationship with your co-teacher.
Prepare yourself with go-to activities for those "surprise" classes
Available in a Variety of Formats
You can buy it on Amazon by clicking on the link below. It's available in both electronic and print versions. The (cheaper!) e-version can be read on any smartphone, tablet, Mac, or PC by downloading the free Kindle reading app.
Shop Now
Does it sound like exactly what you might need to kick your English classes to the next level? It just might be, so be sure to check it out for yourself, but only if you want to get yourself a serious dose of ESL awesome in your life.
—>Buy ESL Classroom Management Tips and Tricks on Amazon<—
Have your Say about Giving Instructions
Do you have any tips or tricks for when you're giving instructions to your students? Leave a comment below and share them with us!
Also be sure to give this article a share on Facebook, Pinterest, or Twitter. It'll help other busy teachers, like yourself improve the way that they give instructions to their students.
Last update on 2022-07-17 / Affiliate links / Images from Amazon Product Advertising API