The IELTS exam is becoming increasingly important for jobs or educational opportunities. There is a ton of information available on the Internet about how to improve your score on the IELTS test, but you need to consider the source. Not all tips are created equal!
In this article we'll share our top five tips for the IELTS speaking test. Some are obvious, but worth pointing out, while others are less so. If you're looking for even more tips for the IELTS speaking exam, then you'll need to check out these other two resources:
IELTS Speaking Test Tips, Part 1 (this article is part 2)
Tips for Getting a Better Score on the IELTS Speaking Test
Ready for the IELTS speaking test tips? Let's go!
Tip #1: Add some Details for the IELTS Speaking Test
First, use descriptive details and personal anecdotes to make your answers more interesting in the IELTS speaking test. This is more important in Parts 2 & 3 than in Part 1. In Part 1, your answers should be short and quick, 2 to 3 sentences maximum; you won't have much time to speak.
But in Part 2, you do all of the talking and in Part 3, you should do more talking than the examiner (but, again, don't talk incessantly, or on and on; you must follow the examiner's lead). This is where it's good to expand your answers; you want to keep talking and fill in the time effectively.
This is a good opportunity to talk about your feelings and opinions; it's important to understand that there's no right or wrong answer. You need to be able to communicate your ideas effectively, no matter what they are.
Tip #2: If you Don't Know About the Topic…
Second, if you don't know anything about a topic or the topic is uncomfortable, use short answers or, better yet, lie. Yes! You can indeed lie on the IELTS speaking exam. Using short answers won't work in Part 2, where you must continue talking for 2 minutes.
You might get away with it in Part 3, as long as you don't do it repeatedly. However, if you lie about a topic, this is ok; you're being tested on your ability to communicate your ideas, not whether your ideas are right or wrong.
Occasionally, I ask students how they feel about a certain sport, say basketball, and the students reply that they don't like basketball or sports (all sports). I can't change the question, but a candidate could say that they don't like basketball and then say why they don't like it. They could make up facts about basketball that aren't true, but this would still be irrelevant to the discussion, as long as they continue to discuss why.
I've seen candidates falter in the past when talking about a parent or grandparent who had recently passed away; this is difficult to watch, because the topic can't be changed after it's been assigned. But you could talk about a pleasant memory involving the grandparent when they were still alive. Using a positive past memory might help you overcome the emotion you feel about losing them. This isn't necessarily lying, but as long as you continue to talk coherently, it'll achieve your purpose.
Tip #3: Big Words-Make sure you Use them Correctly
Third, if you use big words on the IELTS speaking test, make sure you understand them and know how to use them properly. Many candidates like to "dictionary shop" for big, complex words, but this is a bad idea. The dictionary doesn't show you how to use the words in a sentence.
Candidates also don't understand that most native speakers don't use fancy, complex words, but instead rely on collocations and colloquialisms. For example, native speakers often say "Merry Christmas" and "Happy New Year". We would never say "Happy Christmas", "Wonderful Christmas" or "Merry New Year", even though happy, wonderful and merry all mean essentially the same thing. Wishing someone a "winsome Christmas" will only get you strange looks and no response.
Related: Practice Speaking English: Tips for ESL/EFL Learners
Tip #4: Use Synonyms and Conjunctions in the IELTS Speaking Exam
Fourth, use synonyms & conjunctions to make your speech more interesting during the IELTS speaking exam. Using the same word again and again indicates that you have a limited vocabulary. If you're talking about your brother or sister, refer to them using words like "sibling", "relative" or "kin".
Conjunctions also make your speech more interesting and easier to listen to. The only difference between a simple and a compound sentence are words like "and", "but", "for", etc. By using simple conjunctions, you have improved your grammar and your score. If you edit two sentences and make them one sentence, you have turned simple sentences into complex sentences; your score will be even better.
IELTS Speaking: How to Get a Higher Score
Tip #5: Match Grammar in Question and Answer
Fifth, always match the questions' grammar in your response. We've mentioned this earlier but it bears repeating; it's your ability to communicate effectively that's being tested. Small mistakes that don't confuse the listener are often ignored, as long as we know or can guess what you meant to say.
But responding to a question about a sport you played as a child by describing the hockey team you play with now on weekends will confuse the listener (the examiner in this case). It'll demonstrate that you don't fully understand the question, which usually leads to misunderstandings and poor communication.
Related: English Reading Test Tips for ESL/EFL Students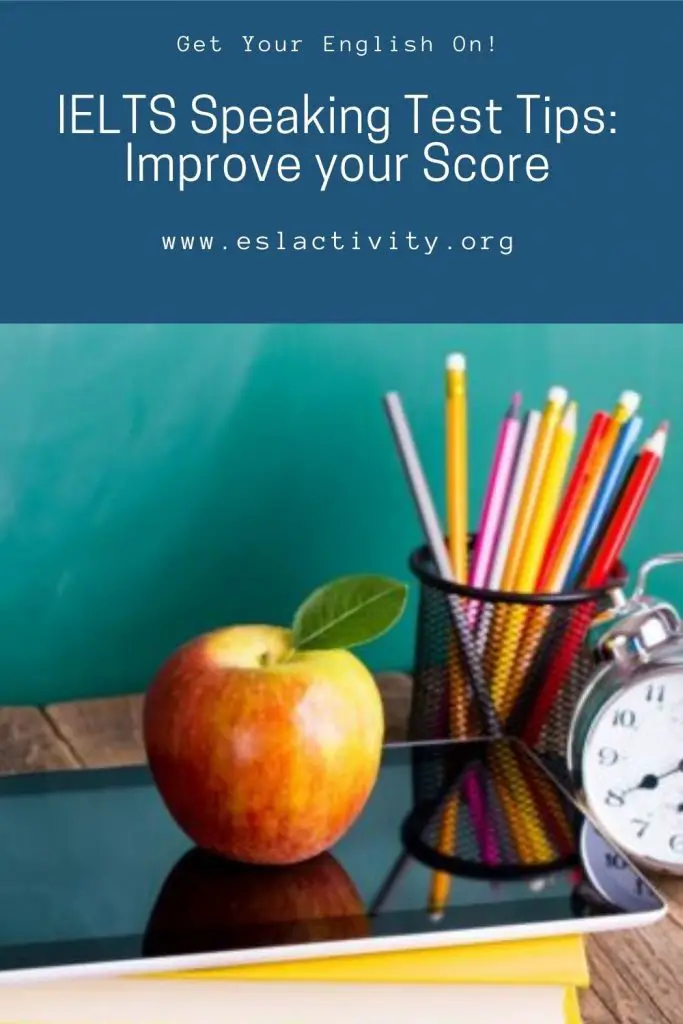 Bonus Tip for the IELTS Speaking Exam
One last item: there are a lot of resources on the Internet today that focus on the IELTS exam or specific exam parts. It's hard to know which sources are better, especially if you've never taken the exam. So it's important to research a school or website before you sign up, and try to determine which ones are credible.
Obviously, the best resources for informing yourself about IELTS are the British Council websites. These sites will tell you everything you need to know about the exam; they even offer practice materials and mock exams you can take before you sit the real exam.
You'll also see from the British Council websites that the IELTS exam has its own very specific vernacular or jargon; there are very specific words and phrases used to talk about the exam, such as "examiner", "invigilator", "exam venue", "bands", and so on.
If someone refers to the examiners as "administrators", there is a good chance this person isn't as knowledgeable about the exam as they're pretending to be. If you come across a website or a live school or IELTS teacher who isn't familiar with the correct terminology, don't walk but run, as fast as you can, in the other direction.
Related: How to Speak English Fluently: Learn more Vocabulary
About the Author
John Kenmuir is a former IELTS speaking examiner, having examined thousands of students through the Shanghai Branch of the British Council, and has also been an ESL/EFL teacher since 1995. He has taught in his native Canada, South Korea, China and Saudi Arabia, and is the author of the new book "Surviving IELTS Speaking," available on Amazon in both paperback and Kindle versions. He is a published writer, author & poet, currently residing in Merida, Mexico, where he continues to write and author new books.
Need more IELTS Speaking Exam Tips?
If you found these tips for the IELTS speaking test useful, then you'll need to check out these two additional resources. The first is part one of this article, and you can find it here:
IELTS Speaking: Top 5 Tips (Part 1)
The second resource is the book, Surviving IELTS Speaking: Improving the Experience. It's by the same author as this article, and has a ton more information for helping you improve your IELTS speaking test score.
The book is available in both Kindle and paperback versions. The (cheaper!) electronic version can be read on any device-PC, Mac, Smartphone, Tablet, or Kindle. You just have to download the free Kindle reading app.
Are you ready to improve your IELTS speaking test score? Check out the book on Amazon today:

Have your Say about the IELTS Speaking
Do you have any tips or tricks for improving your score on this English proficiency test? Leave a comment below and let us know what you think. We'd love to hear from you.
Also be sure to give this article a share on Facebook, Pinterest, or Twitter. It'll help other English learners, like yourself find this useful resource.
Last update on 2022-06-25 / Affiliate links / Images from Amazon Product Advertising API