If you're looking for some lesson ideas for advanced English conversation classes, then you're certainly in the right place. Keep on reading for some of the top picks for TEFL classes for higher-level learners.
Activities and Games for Advanced ESL Lessons
Let's get into the top activity ideas for advanced ESL classes.
#1: Closest in Meaning ESL Reading Activity
This is a simple reading activity that focuses on meaning. Write one target sentence and then 3 similar ones. However, one should be closer in meaning to the original one than the others. For advanced English classes, this could be very subtle.
Put students into pairs and have them discuss with each other the one they think is the best. Find out more about it:
Closest in Meaning ESL Reading Activity. 
#2: Dictogloss
Try out this challenging listening activity in an advanced ESL class. Find, or write a passage containing the target grammar or vocabulary. Then, put students into pairs and read it out at a faster than normal pace for the level of students.
Students can take notes and then compare them with a partner to try to recreate what they just heard. Repeat the process again and in the end, students compare what they have with the original version.
Sounds interesting? Try it out and I'm sure your students will enjoy one of the best advanced ESL games:
#3: 67 ESL Conversation Topics for Advanced English Learners
This is kind of the ultimate book for advanced ESL lessons. You can find questions, writing prompts and a vocabulary challenge around centred around one topic. There are 67 lessons so you'll never run out of material for your advanced ESL lessons again!
Keep this one on your bookshelf to take to just about any class with higher-level English learners. Check it out on Amazon:

#4: Word Association
It's often the case that advanced English learners already know a large amount of vocabulary for just about any topic. One way to help them activate this prior knowledge is to use word association. It's basically a mind map where students have to brainstorm words or phrases related to a certain topic.
In a small class, this can happen with the entire class together. With a larger class, consider putting students into pairs or groups of 3-4 to make it more student-centred. Learn more here:
Word Association ESL Activity.
#5: ESL Reading Lesson Plan
I love to use this style of lesson for my ESL advanced lessons for adults. The key is to find an interesting, challenging reading passage. My go-to source is usually Breaking News English or I use authentic materials from various news sites for the highest-level students.
This can lead to so many other things, including a focus on grammar, vocabulary, etc. It has the distinct advantage of probably being a topic that the students have never talked about before. After all, they've covered the weather, types of sports, hobbies, etc. probably a million and one times.
It doesn't take that long to design your own reading lesson plan if you have a template to follow. Check out mine here:
#6: Information Gap Activities
To get students talking, almost nothing beats information gap style activities. This is where one student has half the information and the other student, the other half. They then have to work together to get the complete set.
There are lots of kinds of these activities, some of which are better suited for beginners but there are certainly some nice ones for more advanced learners. Check them out here:
Information Gap ESL Activities.
#7: ESL Surveys
Just ask my students and they'll tell you how much I love using surveys in all my classes, from beginner to advanced! They are student-centred, cover a range of skills in a single activity, lend themselves to just about any topic and are fun for the students. In short, the ultimate TEFL activity!
The even better news is that it's possible to design your own in just a few minutes once you get a bit of practice with it. Find out how here:
#8: Business English Vocabulary Builder
If your students want to work on their business English vocabulary, then consider recommending this book to them. There are dialogues filled with helpful phrases, expressions and idioms for a variety of situations. Then, there are also opportunities for students to put into practice what they've learned.
Check out the book for yourself here:

#9: Future Forms ESL Activities
The grammar of future forms isn't actually that complicated but there are some subtle differences in usage. For example, why do you use, "going to" and when do you use, "will." Many English teachers couldn't even answer that question but there is certainly a difference between them!
Advanced learners are probably quite familiar with all the future forms but consider doing a lesson that combines them all into one. Whenever I do this with my students, it's quite eye-opening and they really appreciate some guidance with this somewhat confusing thing. Check out my top ideas:
#10: Freeze Group Writing Activity
Group writing activities are few and far between. Try out this fun one with your advanced ESL classes as a quick warm-up or time-filler. Find out more about it here:
#11: Reported Speech
This is one of those things that has some tricky grammar to it and even advanced students don't really know the ins and outs of it. This is why it can make a nice grammar point for an advanced ESL lesson. Check out some of my recommendations here:
#12: Buy Nothing Day ESL Lesson
In my advanced English conversation lessons, I love to do some holiday lessons around some of the more unusual ones like Buy Nothing Day. There is usually a bunch of vocabulary that the students haven't heard of and it's likely that the students haven't talked about it before, which can create some interesting discussion.
Check it out here:
Buy Nothing Day ESL Lesson Plan.
#13: Advanced English Conversation Dialogues
If your students want some extra practice outside of class, consider recommending this book to them, Advanced English Conversation Dialogues. There are phrases, expressions and idioms for higher-level English learners.
Check out the book on Amazon:

#14: Teaching Collocations
Collocations are groups of words that occur together more often than just by natural chance. Here are a few examples:
Cup of tea
work shoes
cat litter
make dinner
There are thousands of them in any language and it can be quite useful to spend some time focusing on them with advanced learners. That's because learning a language in "chunks" can make it far more memorable. Find out more about it here:
#15: Opinion Games and Activities
Beginner language learners generally deal with facts. Like times, how much something costs or what color it is. Later on, language learning gets more into opinions and the language required to express them.
That's what makes giving opinions an ideal topic for more advanced learners. Check out some of the best ideas here:
#16: Brochure Scanning Reading Activity
I love to use authentic materials (those not designed for ESL/EFL learners) as much as possible in advanced English lessons. Brochure scanning is one such activity. It's also a nice change of pace from reading the usual things found in ESL textbooks.
Try it out with your students:
ESL Brochure Scanning Activity.
#17: 3 Things
Try out this simple, somewhat silly writing activity in your classes. It's perfect in that it requires no materials or preparation but it's entertaining and a nice way for students to get some writing practice in. Check it out here:
3 Things ESL Writing Activity.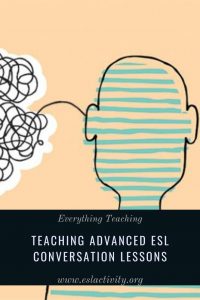 #18: Find Something in Common
Try out this simple icebreaker with your higher-level English students. It's fun, engaging and best of all, requires absolutely nothing in the way of preparation and no materials except for a pen and paper. Find out more about one of my favourite advanced ESL activities right here:
Find Something in Common ESL Activity.
#19: Past Continuous for Advanced ESL Lessons
The past continuous is used to describe an action in the past that was interrupted by another action. It's definitely more of an advanced English concept and it makes a nice grammar lesson for higher-level learners. Check out some of the top ideas here:
#21: Vocabulary Auction
#21: Task-Based Language Teaching
I LOVE to use task-based teaching in my advanced ESL classes. Students have to work together in teams to complete a task and the best part is that they have some freedom to complete the task using whatever language they want.
Find out more about this style of teaching, along with some very practical task ideas:
#22: Running Dictation
Try out this fun 4-skills ESL activity with your students today:
#23: Small Talk ESL Ideas
Small talk is an important skill for ESL students to master. It forms a variety of social functions but it's not that easy to do it well. That's why I like to spend some time working on small talk in my classes, even with higher-level students. Here are some of my favourite ideas:
#24: Teach Contractions and Connected Speech
#25: ESL Short Stories
One of my favourite things to do with advanced learners are reading-focused lessons. They start with a reading of some kind and then can lead to all sorts of discussions about the content of that lesson. Check out some stories, along with reading comprehension and discussion questions here:
#26: After-Reading Activities
With my higher-level students, I love to assign a novel to read for homework. I generally do a chapter each week and then spend some time discussing in class what they've read.
Beyond just talking about the book, there are a million and one other things you can do after reading to get the most mileage out of it. Here are a few of my best ideas:
After-Reading Activities and Strategies. 
#27: American English Party Slang
#28: Academic English
It can sometimes be the case that higher-level ESL/EFL students are preparing for an English-speaking college or university. If that's the case, it's can be worthwhile to spend some time teaching academic English. The vocabulary and way of speaking is quite different from general English.
Have a look right here at one of the top resources:
#29: Debate Club
Organize a debate club where students can engage in lively discussions on various topics. Assign teams or allow students to choose their own positions, and encourage them to present arguments, counterarguments, and evidence to support their viewpoints.
#30: Book Club
Assign a book for the class to read and set up a book club discussion. Students can share their thoughts, critique the storyline or characters, and explore themes and messages within the book. Encourage in-depth analysis and encourage students to back their opinions with evidence from the text.
#31: Case Studies
Present students with case studies or real-life scenarios that require analysis and decision-making. Students can work individually or in groups to discuss the situations, propose solutions, and defend their choices based on critical thinking and problem-solving skills.
#32: Guest Speakers
Invite guest speakers, such as professionals from various fields, to engage in a conversation or question-and-answer session with the students. This provides an opportunity for authentic, real-world conversations and exposes students to different perspectives and expertise.
#33: TED Talk Discussions
Choose TED Talks or other inspiring and thought-provoking speeches for students to watch. Afterward, students can participate in group discussions, share their insights, and explore the ideas presented in the talks.
#34: Cultural Exchange
Organize cultural exchange sessions where students from different cultural backgrounds share aspects of their culture, traditions, and values. This promotes understanding, respect, and open conversations about cultural diversity.
ESL Advanced Lesson Plans
If you're a teacher, then you know how much time it can save you to use something that another teacher has created! That's where these sites come in. Check them out:
Tips for Teaching Advanced English Learners
Teaching advanced English learners requires a different approach compared to beginners or intermediate students. Here are some tips to consider when teaching advanced English learners:
Provide Challenging Materials
Advanced learners thrive on intellectual stimulation. Use authentic materials such as newspaper articles, academic texts, TED Talks, or podcasts that cover complex topics. These materials will expose them to advanced vocabulary, idiomatic expressions, and sophisticated sentence structures.
Encourage Critical Thinking
Engage advanced learners in critical thinking activities that require analysis, evaluation, and synthesis of information. Encourage them to express their opinions, debate, and support their arguments with evidence. Foster discussions that delve into current events, literature, or controversial topics to develop their ability to think critically in English.
Focus on Nuances
Advanced learners should pay attention to nuances in vocabulary, grammar, and idiomatic expressions. Teach them subtle differences in meaning, register, and usage. Encourage them to refine their understanding and usage of synonyms, antonyms, and idiomatic expressions to express ideas more precisely.
Expand Vocabulary and Idiomatic Expressions
Help advanced learners expand their vocabulary by introducing advanced words, phrases, and idiomatic expressions. Encourage them to keep a vocabulary journal and explore the usage of new words in different contexts. Provide opportunities for them to use sophisticated vocabulary in speaking and writing tasks.
Emphasize Fluency and Accuracy
Advanced learners should aim for both fluency and accuracy in their English usage. Encourage them to speak confidently and naturally, focusing on appropriate intonation, rhythm, and stress. Provide feedback on their accuracy and help them fine-tune their grammar, sentence structure, and pronunciation.
Incorporate Authentic Language Use
Expose advanced learners to authentic language use by incorporating real-life examples, videos, and audio recordings. This exposure will help them become more familiar with natural language patterns, informal expressions, and cultural references commonly used by native speakers.
Personalize Learning
Allow advanced learners to pursue topics of interest and cater to their individual learning goals. Provide opportunities for independent research, presentations, or projects that align with their interests and aspirations. This personalization fosters motivation and enhances their sense of ownership in the learning process.
Encourage Extensive Reading and Writing
Advanced learners should engage in extensive reading and writing to further develop their language skills. Encourage them to read a variety of genres, including fiction, non-fiction, academic texts, and literature. Assign writing tasks that require critical analysis, argumentation, and coherent expression of ideas.
Provide Constructive Feedback
Advanced learners benefit from specific and constructive feedback. Focus on their areas of improvement, such as grammar accuracy, vocabulary usage, or pronunciation. Encourage self-reflection and self-correction by providing guidelines for self-assessment and peer feedback.
Promote Cultural Awareness
Help advanced learners deepen their understanding of English-speaking cultures by exploring literature, films, customs, and social issues. Encourage them to engage in cross-cultural discussions and appreciate the nuances and diversity within English-speaking communities.
Advanced ESL Lessons FAQs
There are a number of common questions that people have about teaching higher-level English learners. Here are the answers to some of the most popular ones.
What is the highest level of ESL?
The highest level of ESL depends on the scale used at the educational institution. However, it's roughly an 8.5 on the IELTS exam, or a C2 (proficient) on the Common European Framework or Reference for Languages.
What can you do with Advanced ESL students?
Here are some tips for teaching advanced ESL students.
Use authentic materials, not materials designed for ESL/EFL.
Encourage free talking and debate.
Tailor the lesson to real-life needs.
Focus on pronunciation.
Teach things like idioms and slang.
Teach academic writing.
How can I teach ESL speaking?
Have your Say about English Conversation Advanced
Do you have any tips, tricks, or go-to activities for teaching higher-level English learners? Leave a comment below and let us know what you think about it. We'd love to hear from you.
Also, be sure to give this article a share on Facebook, Pinterest, or Twitter. It'll help other busy English teachers, like yourself, find this useful resource.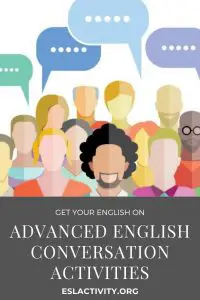 Last update on 2022-07-17 / Affiliate links / Images from Amazon Product Advertising API