Check out the top picks for ESL flashcard games, activities and lesson plan ideas. Have some fun with flash cards in your TEFL classes today. Keep on reading for my favourite games with flashcards to consider trying out.
ESL Flash Card Games and Activities
Let's get to the best ESL flashcards activity ideas for TEFL classes.
#1: Basketball Flashcard Challenge
This is a fun flash card game for kids, teenagers or adults as well. It's the perfect way to review any vocabulary, or you can use it for a grammar review as well.
The main requirement is that you have a classroom or access to a gym with a lot of space. Try it out and I'm sure your students will like this TEFL flash card game as much as mine do:
#2: Concentration Memory Game
This is a simple game to play with one-sided flashcards. It's possible to do this in a variety of ways with matching flash cards:
picture/word
picture/description
word/description
opposites
Find out more details about it:
#3: Flashcard Review Games
#4: Yes/No Questions
Try out this simple flashcard activity for beginners who want to get a bit of practice with conversation.
Each pair gets a small stack of flashcards. Student A can pick up a flashcard and then ask student B a yes/no question based on it. For example:
(cat) Do you have a cat?
(pizza) Do you like pizza?
(someone sleeping) Did you sleep well last night?
Does she have long hair? (more ideas: describing people)
For even more ideas for yes/no questions for ESL, have a look here:
ESL Yes No Question Activities.
#5: Hot Potato
#6: Password ESL Speaking Activity
This is a speaking activity that can be done with the whole class or in small groups. Use flashcards for the "secret" word that is hidden from one person. The rest of the team has to describe the word to that one person who has to guess what it is.
Try out this game with TEFL flash cards for yourself: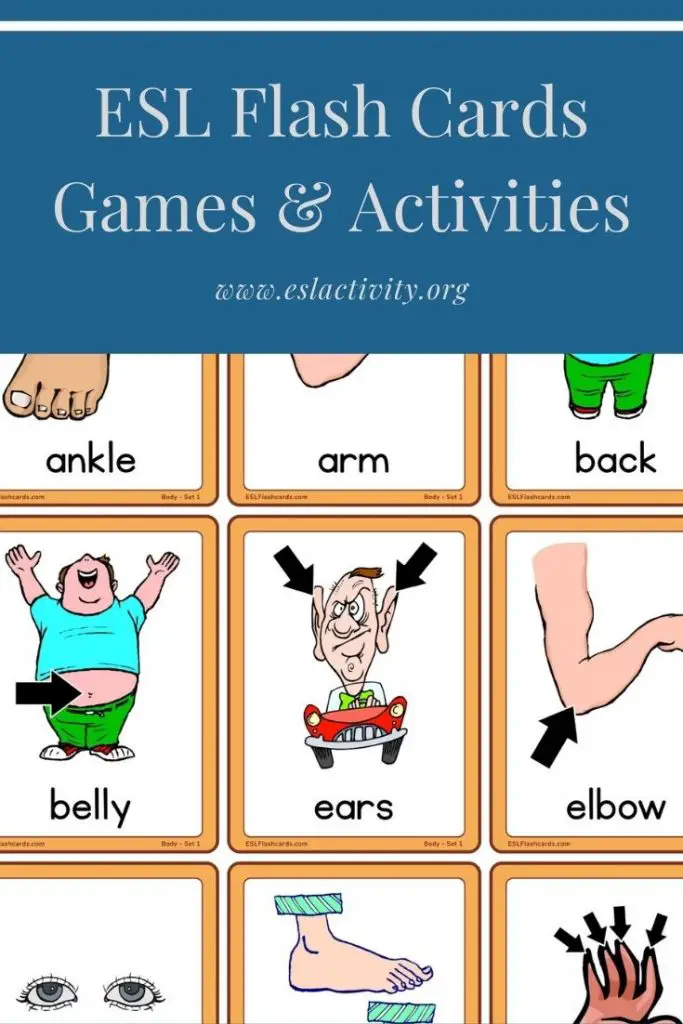 #7: Daily Routines Flashcard Activity
For this activity, print off a bunch of flashcards showing people doing normal life things like taking a shower, eating breakfast, brushing teeth, driving to work, cooking dinner, etc.
Then, put students into pairs and they can put the flashcards in order for the made-up person. After that, they can take turns making sentences about that person. For example:
Tom wakes up at 7:00.
He takes a shower after waking up.
Tom usually eats breakfast at 8:00. He eats toast.
Try it out. It's one of the best flashcard games for kindergarten.
#8: More ESL Activities for Beginners
#9: Vocabulary, Pronunciation, and Writing Practice
Try out this simple ESL flashcard game that covers a wide range of skills. Put students into groups of three. The teacher shows a flashcard to one student, who ways out loud what it is. Then, the third student has to write it down.
To avoid copycats, I use different words for each team. In the end, the team with the most correctly spelt words is the winner.
#10: ESL Flashcards for Memorizing Vocabulary
If you're serious about learning vocabulary, then you should be serious about rote memorization using flashcards! Sure, it's kind of old-school but people still do it because it works.
Whenever my students ask me how they can learn new words, I recommend that they use flashcards and add 3-5 new words each day. Then, they should go through their stack at least once a day. Take out words that are super easy and set aside to mix in a few weeks later, focusing on the more difficult words. Students should shuffle the cards each time.
#11: More Ideas for Beginners
#12: Sentence Building
Create flashcards with individual words, such as nouns, verbs, adjectives, and adverbs. Ask students to select cards and arrange them to form grammatically correct sentences. This activity helps them practice sentence structure and word order.
#13: Storytelling
Use flashcards to spark students' creativity and storytelling skills. Distribute different flashcards to students and have them take turns incorporating the words or images into a collaborative story. This exercise encourages speaking and listening skills.
#14: Categorization
Prepare flashcards with words or pictures from different categories, such as animals, food, sports, or professions. Have students sort the flashcards into the appropriate categories, discussing their choices and reasoning in English.
#15: Grammar Practice: Create flashcards with sentence fragments or clauses that contain grammatical errors. Students must identify the mistakes and correct them. This activity reinforces grammar rules and encourages students to analyze sentence structure.
#16: Role-Play
Assign flashcards with different roles or characters to students and have them interact using the vocabulary or phrases associated with those roles. For example, students can act out a restaurant scene using flashcards with waiter, customer, and food items.
#17: Picture Description
Show a flashcard with a detailed picture and have students describe what they see in English. This activity enhances their descriptive skills and expands their vocabulary.
#18: Flashcard Race
Divide the class into teams. Place a set of flashcards face down in the middle of the room. Call out a word or show a flashcard to the students. The first student from each team races to find and grab the corresponding flashcard. The team that collects the most correct flashcards wins.
#19: Flashcard Slam
Scatter the flashcards on the floor. Divide the class into two teams and have them line up on opposite sides of the flashcards. Call out a word or show a flashcard, and the first student from each team races to find and step on the corresponding flashcard. The student who steps on the correct flashcard earns a point for their team. Continue calling out cards until all flashcards have been used, and tally up the points to determine the winning team.
#20: Flashcard Relay
Set up a relay race with flashcards placed at a distance from the starting line. Divide the class into teams. The first student from each team runs to the flashcards, grabs one, and runs back to their team, saying the word or showing the picture to their teammates. The next student in line repeats the process. The team that finishes the relay first wins.
#21: Flashcard Charades
Select a student to come to the front of the class. Show them a flashcard without revealing it to the rest of the class. The student must act out or mime the word or concept on the flashcard, while their classmates try to guess what it is. The student who guesses correctly becomes the next one to act out a flashcard.
Where can I Find ESL Flash Cards?
If you want to find some flashcards that you can print off online and take to class, here are some of the top sources. You can find some options for kids, as well as flashcards for adults.
Did you like these ESL Flashcard Games? 
Yes? Then you're going to love this book: 101 ESL Activities for Kids. The key to better English classes for kids is a wide variety of interesting, engaging and interactive games and activities and this book will help you get there in style.
You can find the book in a variety of formats. Consider picking up the digital version to take with you to your favourite coffee shop for some lesson planning on the go. Or, keep a copy on the bookshelf in your office to use as a handy reference guide. Finally, consider listening to the audiobook on your way to work for some serious inspiration.
Whatever the case, get ready to level up your English classes! Find out more here:

ESOL Flashcards FAQs
There are a number of common questions that people have about using TEFL flash cards. Here are the answers to some of the most popular ones.
How do you use ESL Flashcards?
There are a number of ways to use ESL flashcards. You can simply show the card to the student and have them name the word, or make a sentence. Or, there are a number of games that they can be used with like password or concentration.
Are flashcards effective for language learning?
Yes, flashcards are very effective for language learning. However, the key is to use them effectively. Be sure to mix them up frequently and alternative your native language to the target language and back. Add a few new flash cards into the mix each day.
How do you make flashcards?
It's easy to make your own flash cards for lessons. Use small index cards, or bigger ones cut in half. Put a word on one side and then a picture or definition on the other one.
How do I use printable flashcards for ESL classes?
There are a number of ways to use printable flashcards for ESL. They are useful for introducing new vocabulary and then doing some drilling exercises. They can be also be used for various practice opportunities and review. Some teachers bring ESL flashcards to every single class because there are so many things you can do with them.
Using Flash Cards in TEFL Classes: Join the Conversation
Do you have any go-to games or activities for using flashcards in an ESL/EFL class? Leave a comment below and let us know what you think. We'd love to hear from you.
Also, be sure to give this article a share on Facebook, Pinterest, or Twitter. It'll help other busy English teachers, like yourself find this useful resource.
Last update on 2022-07-17 / Affiliate links / Images from Amazon Product Advertising API