Check out the top picks for ESL flashcard games, activities and lesson plan ideas. Have some fun with flash cards in your TEFL classes today.
ESL Flash Card Games and Activities
Let's get to the best ESL flashcards activity ideas.
#1: Basketball Flashcard Challenge
This is a fun flash card game for kids, teenagers or adults as well. It's the perfect way to review any vocabulary, or you can use it for a grammar review as well.
The main requirement is that you have a classroom or access to a gym with a lot of space. Try it out and I'm sure your students will like it as much as mine do:
#2: Concentration Memory Game
This is a simple game to play with one-sided flashcards. It's possible to do this in a variety of ways with matching flash cards:
picture/word
picture/description
word/description
opposites
Find out more details about it:
#3: Flashcard Review Games
#4: Yes/No Questions
Try out this simple flashcard activity for beginners who want to get a bit of practice with conversation.
Each pair gets a small stack of flashcards. Student A can pick up a flashcard and then ask student B a yes/no question based on it. For example:
(cat) Do you have a cat?
(pizza) Do you like pizza?
(someone sleeping) Did you sleep well last night?
For even more ideas for yes/no questions for ESL, have a look here:
ESL Yes No Question Activities.
#5: Password ESL Speaking Activity
This is a speaking activity that can be done with the whole class or in small groups. Use flashcards for the "secret" word that is hidden from one person. The rest of the team has to describe the word to that one person who has to guess what it is.
Try it out for yourself: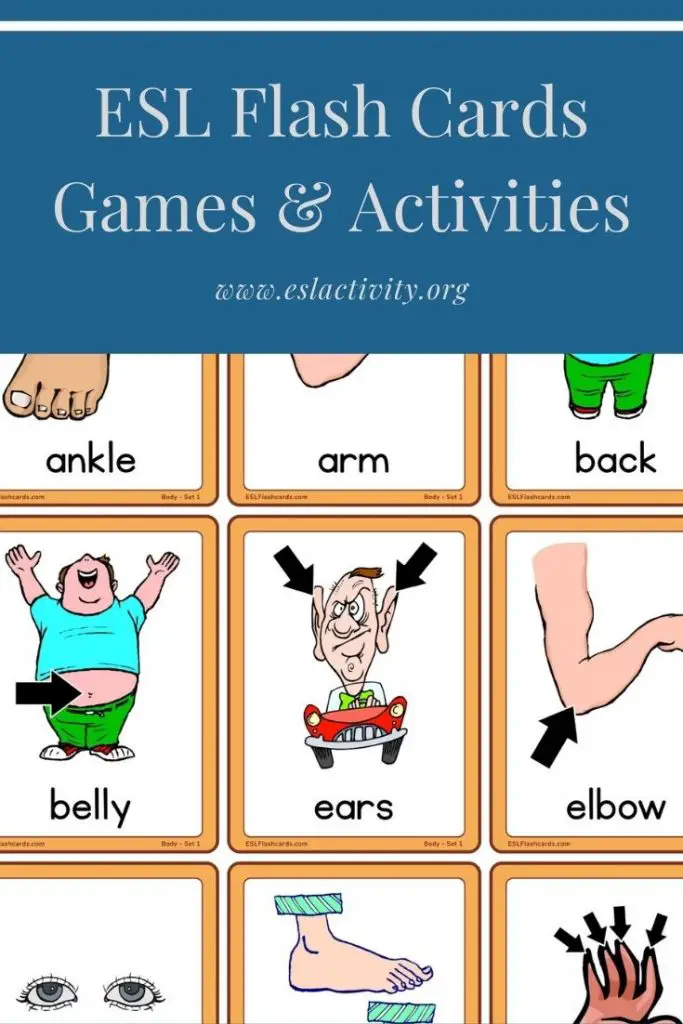 #6: Daily Routines Flashcard Activity
For this activity, print off a bunch of flashcards showing people doing normal life things like taking a shower, eating breakfast, brushing teeth, driving to work, cooking dinner, etc.
Then, put students into pairs and they can put the flashcards in order for the made-up person. After that, they can take turns making sentences about that person. For example:
Tom wakes up at 7:00.
He takes a shower after waking up.
Tom usually eats breakfast at 8:00. He eats toast.
#7: ESL Flashcard Games for Kids
#8: Vocabulary, Pronunciation and Writing Practice
Try out this simple ESL flashcard game that covers a wide range of skills. Put students into groups of three. The teacher shows a flashcard to one student, who ways out loud what it is. Then, the third student has to write it down.
To avoid copycats, I use different words for each team. In the end, the team with the most correctly spelt words is the winner.
#9: ESL Flashcards for Memorizing Vocabulary
If you're serious about learning vocabulary, then you should be serious about rote memorization using flashcards! Sure, it's kind of old-school but people still do it because it works.
Whenever my students ask me how they can learn new words, I recommend that they use flashcards and add 3-5 new words each day. Then, they should go through their stack at least once a day. Take out words that are super easy and set aside to mix in a few weeks later, focusing on the more difficult words. Students should shuffle the cards each time.
#10: TEFL Flash Card Activities
Where can I Find ESL Flash Cards?
If you want to find some flashcards that you can print off online and take to class, here are some of the top sources:
Did you like these ESL Flashcard Games? 
Yes? Then you're going to love this book: 101 ESL Activities for Kids. The key to better English classes for kids is a wide variety of interesting, engaging and interactive games and activities and this book will help you get there in style.
You can find the book in a variety of formats. Consider picking up the digital version to take with you to your favourite coffee shop for some lesson planning on the go. Or, keep a copy on the bookshelf in your office to use as a handy reference guide. Finally, consider listening to the audiobook on your way to work for some serious inspiration.
Whatever the case, get ready to level up your English classes! Find out more here:

Have your Say about Using Flash Cards in TEFL Classes
Do you have any go-to games or activities for using flashcards in an ESL/EFL class? Leave a comment below and let us know what you think. We'd love to hear from you.
Also, be sure to give this article a share on Facebook, Pinterest, or Twitter. It'll help other busy English teachers, like yourself find this useful resource.
Last update on 2021-04-18 / Affiliate links / Images from Amazon Product Advertising API