If you're looking for a list of negative character traits, you're in the right place! Keep on reading for some of the most common negative personality traits.
Negative Character Traits List
Check out this negative character trait list.
aggressive
angry
arrogant
biased
careless
cocky
conceited
cowardly
cruel
dishonest
disrespectful
egocentric
fussy
greedy
grumpy
judgemental
lazy
manipulative
rude
sad
selfish
You'll also want to check out the positive character traits.
Negative Personality Traits (with Pictures)
Take a look at these pictures of some of the negative personality traits.
aggressive
angry
arrogant
biased
careless
cocky
conceited
cowardly
cruel
dishonest
disrespectful
egocentric
fussy
greedy
grumpy
judgemental
lazy
manipulative
rude
sad
selfish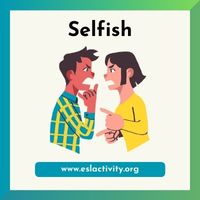 Negative Character Trait Chart
Check out this chart with some of the negative personality traits.
Negative Traits: FAQs
There are a number of common questions that people have about negative traits. Here are the answers to some of the most popular ones.
What is narcissism?
Narcissism is an excessive self-centeredness and a lack of empathy for others.
What is passive-aggressiveness?
Passive-aggressiveness is a behavior characterized by indirect resistance, often in response to frustration or anger.
What is cynicism?
Cynicism is a distrustful and pessimistic outlook on life and the motives of others.
What is impulsivity?
Impulsivity is the tendency to act without careful thought or consideration of consequences.
What is arrogance?
Arrogance is an exaggerated sense of self-importance and superiority over others.
What is hostility?
Hostility is a strong and unfriendly attitude or behavior towards others.
What is perfectionism?
Perfectionism is the pursuit of excessively high standards and the inability to accept anything less.
What is jealousy?
Jealousy is a feeling of envy or insecurity in response to the success or possessions of others.
What is stubbornness?
Stubbornness is a refusal to change one's opinion or course of action, often to the detriment of progress.
What is manipulativeness?
Manipulativeness is the use of deceit or cunning to influence or control others for personal gain.
What is neuroticism?
Neuroticism is a personality trait characterized by emotional instability, anxiety, and mood swings.
What is egocentrism?
Egocentrism is the tendency to view everything from one's own perspective and prioritize one's own needs above others'.
What is hostility?
Hostility is a strong and unfriendly attitude or behavior towards others.
What is entitlement?
Entitlement is a belief that one deserves special treatment or privileges without earning them.
What is deceitfulness?
Deceitfulness is the act of being dishonest or misleading for personal gain or to harm others.
Learn More English Vocabulary
Now that you've mastered these negative character traits, it's time to turn your attention to some other areas. Here are a few ideas:
Negative Personality Traits: Join the Conversation
Do you have any negative traits that you'd like us to add to the list? Leave a comment and let us know. We'd love to hear from you.