Round Robin story is a fun ESL activity that focuses on speaking and listening. It's great for all ages and can also be used as a TEFL writing activity as well. Keep on reading for all the details you need to know!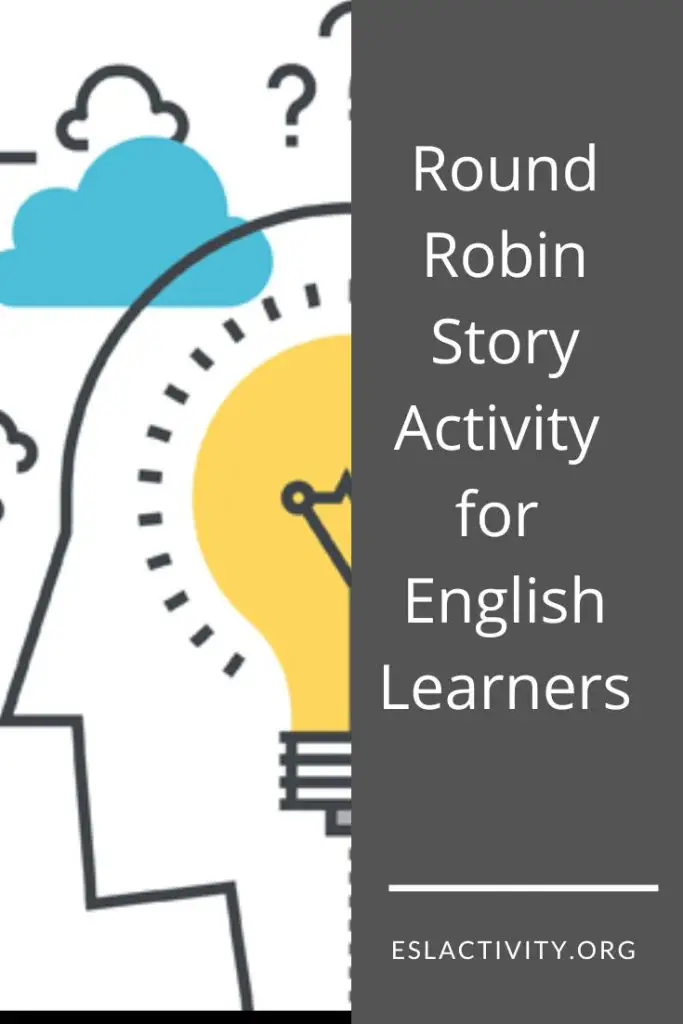 Round Robin Story TEFL Activity
Skills: Listening/Speaking (or Writing)
Time: 10 minutes
Level: Beginner-Advanced (some basic reading skills are helpful)
Materials: Whiteboard, marker
To begin, have the students sit in a large circle. Start them off with a "Once upon a time _____" sentence. Say it as well as write it on the whiteboard.
The story then builds as it travels around the room. Each student adds one idea, which you write (with any mistakes corrected) on the board. This is not a memory game—students only need to add a new idea that continues the story, rather than repeat it from the beginning. It should, however, make sense in the context of the story.
When all students have added an idea, you can either add a sentence to end it, if necessary, or ask for volunteers to finish the story. Then, the entire class can read the story aloud from the board.
Round Robin Story (Writing Variation)
To make this into a writing activity, have each student get a piece of paper. They can start the story off with, "Once up a time _____" and make a complete sentence. Then, they pass the paper to the next person in line who reads what has been written and adds one more sentence.
When time is almost up, tell students that there are only two more passes so that they have to wrap up the story. Students can then read the completed stories.
Teaching Tip:
For more active participation (and if necessary to prompt/help students), you may want to ask students open-ended questions about the story while it is still being written. Even if they have to refer to the board, the students will be more actively engaged in the story. This should also help each contribution move the story forward, especially if you are getting a lot of descriptive sentences without much plot.
Tip for Larger Classes:
If your class is large, this will take longer than 5-10 minutes, if all students contribute. You could randomly choose students to contribute until the time is up, or plan on a longer activity.
Variation for Beginners:
For beginners, it may be enough to get students to say a single word in each sentence to complete the story. For example, "Once up on a time, there was a ____ (bear)." The teacher can read the sentence and then elicit from the students which animal they want to fill in the blank with. Then, the class can read the completed sentence together. Or, absolute beginners can just say the word (bear). Continue until the simple story is complete, eliciting some of the key words from the students.
When complete, read the entire story to the students. I like to give students some tasks to do as they're listening. For example, every time they hear a certain word (bear), they have to gesture with bear claws. Or, they have to stand up every time they hear me say a colour.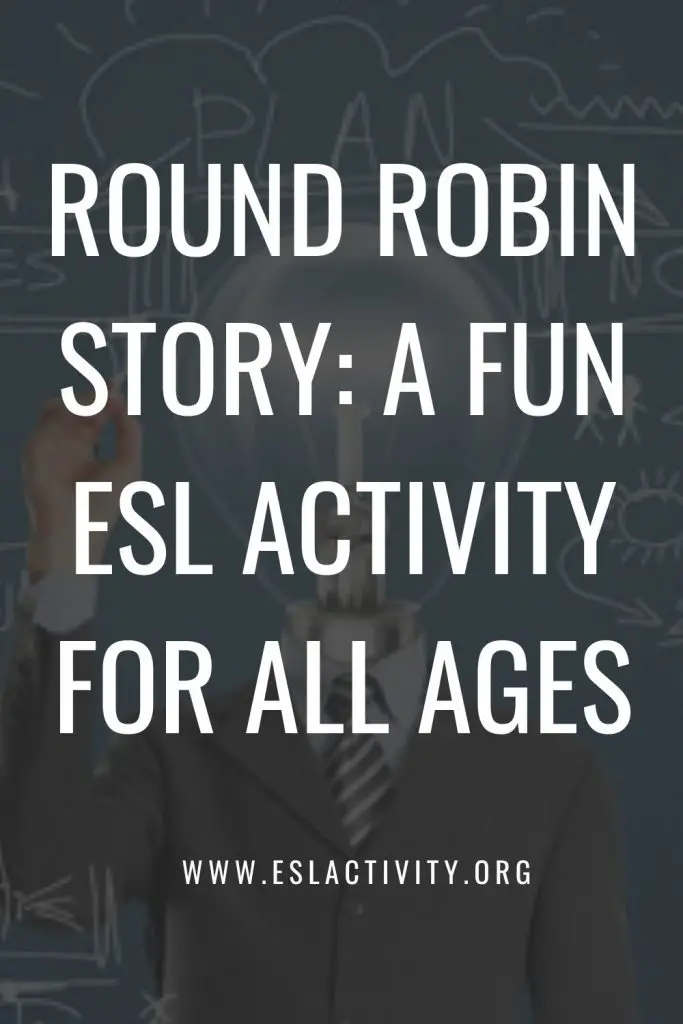 Procedure for Round Robin Story:
Have students sit in a large circle, if possible.
Begin with a "Once upon a time" sentence. Say it and write it on the whiteboard.
Have the student closest to you add an idea and the teacher writes it (correctly) on the board.
Continue around the room, until everyone has added an idea or two.
Add a sentence to end the story, or have volunteers finish it.
Have a student (or several) read the complete story to the class. If you have not written it, summarize or retell it.
Did you like this TEFL Activity?
Yes? Then you're going to love this book that you can easily find wherever you like to buy books: 39 No-Prep/Low-Prep ESL Speaking Activities for Teenagers and Adults. Save a ton of time when planning lessons and have better English classes.
You can find it in a variety of formats so pick up a copy today and get ready for better English classes tomorrow:

Round Robin Story: Join the Conversation
Do you have any questions or thoughts about this activity? Please leave a comment below and let us know. We'd love to hear from you.
Also, be sure to give this article a share! It'll help other busy teachers, like yourself find this useful resource.
Last update on 2022-07-17 / Affiliate links / Images from Amazon Product Advertising API