If you're looking for a 5 paragraph essay template for academic English, then you're in the right place. Keep on reading for everything you need to write a five-paragraph academic essay quickly and easily.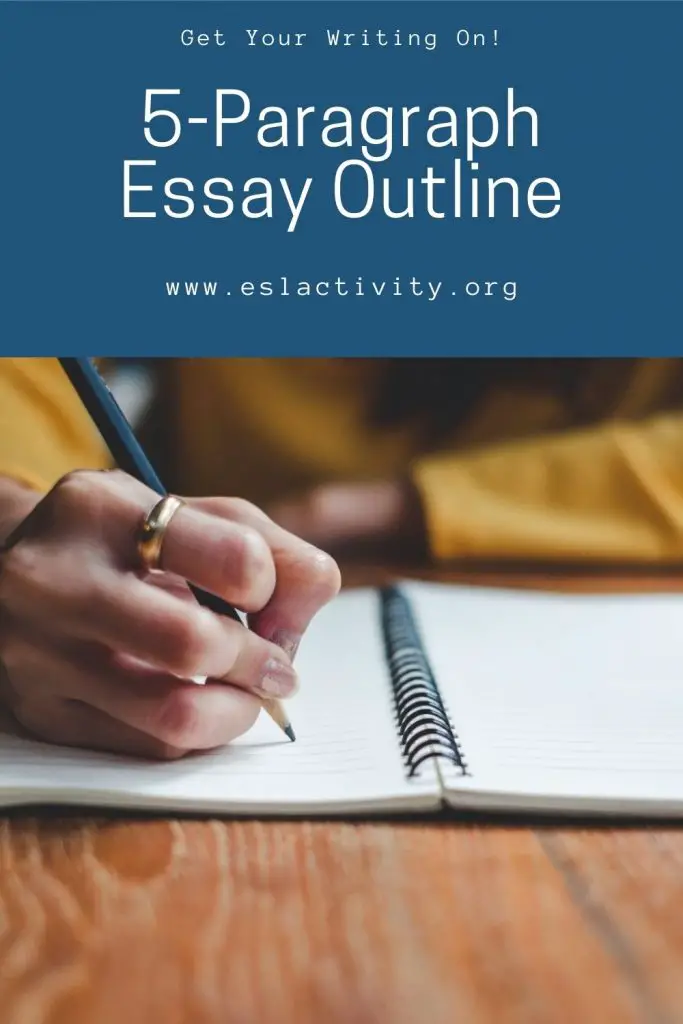 Why Do I  Need a 5 Paragraph Essay Outline?
I'm sure you've had this experience before. You get a writing assignment from a teacher so you sit down at your computer to do it. But, all you see is a blank page in front of you and you have no idea what to write! This happens to everyone so don't worry about it.
The good news is that there's a better way. I like to use a 5 paragraph essay template to make an outline. My outline contains the main ideas, along with the thesis statement, topic sentences, and what I plan to put into the conclusion. Once I have this filled out, it's much easier to sit down and write because I have a guide to follow.
To write students should use a five paragraph essay template. It's key to ensuring a well-organized essay that is easy to read and understand. This will lead to higher scores on any sort of writing test!
Five Paragraph Essay Template
Check out the template that I personally use for academic essays. It's also what I recommend to my advanced writing students in South Korean universities. Teaching students how to use a template like this one goes a long way towards fostering autonomy in a writing class.
Paragraph 4 is optional because you may only want to include two main ideas instead of three if it's a shorter essay. Conversely, you could include an extra paragraph if you want to have four main points instead of three.
Paragraph 1: Introduction
Introduce the topic
Thesis statement (I believe that the death penalty should be abolished for three reasons: A, B, C (main ideas A, B, C).
Paragraph 2: Main Idea A
Topic sentence for main idea A
Supporting evidence (2-3 facts, reasons or examples)
Concluding sentence for main idea A
Paragraph 3: Main Idea B
Topic sentence for main idea B
Supporting evidence (2-3 facts or examples)
Concluding sentence for main idea B
Paragraph 4 (optional): Main Idea C
Topic sentence for main idea C
Supporting evidence (2-3 facts, reasons or examples)
Concluding sentence for main idea C
Paragraph 5: Conclusion
Restate the thesis (These days, most people in Canada believe that the death penalty should be abolished because of main points A, B, and C.
Acknowledge the other sides main argument but say why it's not important or valid
Overall concluding statement/personal opinion on the matter.
Want the printable version of this five paragraph essay template? You can find it right here: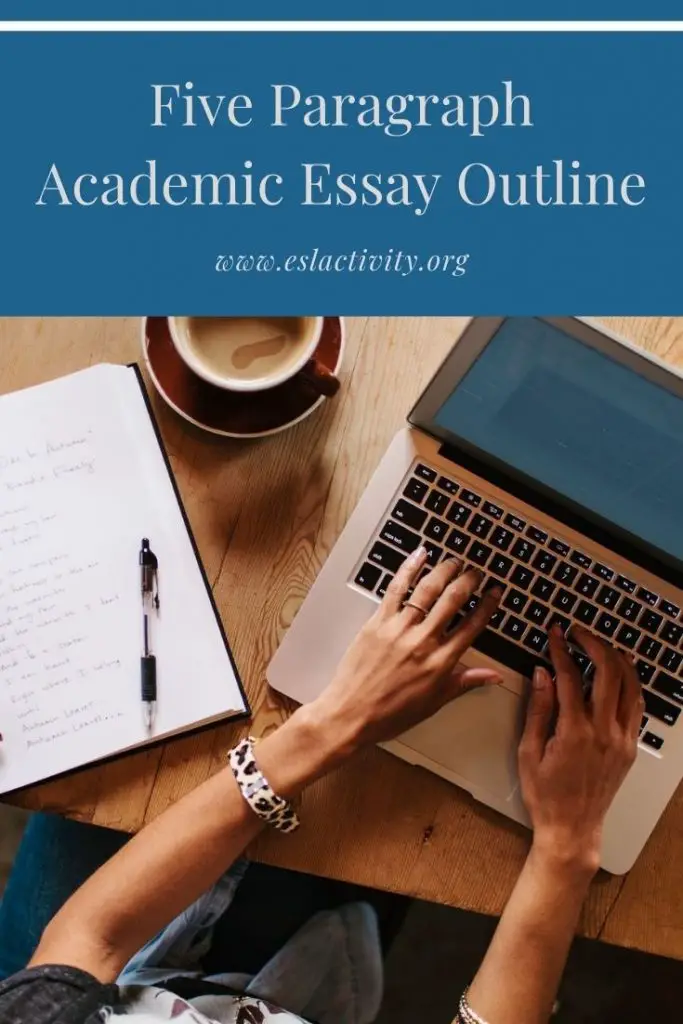 5 Paragraph Essay FAQs
There are a number of common questions that people have about writing a five paragraph academic essay. Here are the answers to some of the most common ones.
What is a Topic Sentence?
A topic sentence is similar to a thesis statement except that it's for a paragraph instead of the entire essay. It's usually the first sentence of the paragraph. The purpose of a topic sentence is to introduce the main idea of the paragraph.
Is "Restating the Thesis" the Same as the Thesis Statement?
You need to restate the thesis in the conclusion of a five paragraph essay but it shouldn't be exactly the same as the thesis statement. It can be similar but use some synonyms and state things slightly differently.
How can I come up with Main Ideas?
To support your opinion in an academic essay, you'll need some ideas to support it. The best way to come up with them is to brainstorm for a few minutes about all the possible ideas. Then, choose the best three that have the most evidence, facts, or reasons you could write about.
How can I write a Thesis Statement?
To write a thesis statement, be sure to say which side of the question you are supporting and then include the three main ideas you will talk about in your essay. It should only be one sentence. Here are some examples:
Peanut butter sandwiches are the best kind of sandwich because they are cheap, easy to make, and don't need refrigeration.
School uniforms shouldn't be required because they can be expensive for some families, they hamper individual style and children find them uncomfortable.
Libraries should be given more funding by the city because they provide educational opportunities, public washrooms and internet for homeless people, and they encourage people of all ages to read more.
What are some Tips for Writing a 5-Paragraph Academic Essay?
Writing a 5-paragraph academic essay follows a specific structure that can help you organize your thoughts and present your arguments effectively. Here are some tips to consider:
Understand the essay prompt: Begin by carefully reading and understanding the essay prompt. Identify the main topic, any specific instructions, and the purpose of the essay. This will guide your research and help you stay focused throughout the writing process.
Plan your essay: Before you start writing, create an outline to organize your ideas. The typical structure of a 5-paragraph essay includes an introduction, three body paragraphs, and a conclusion. Outline the main points you want to cover in each section, ensuring a logical flow of ideas.
Write a compelling introduction

Start with a hook: Begin your introduction with an attention-grabbing statement, such as a surprising fact, an anecdote, or a thought-provoking question.
Provide background information: Give some context and background information about the topic to help the reader understand its importance.
Present a clear thesis statement: State your main argument or position on the topic in a concise and assertive manner. This thesis statement should guide your entire essay.

Develop strong body paragraphs

Topic sentence: Start each body paragraph with a clear topic sentence that introduces the main idea or argument of that paragraph.
Provide evidence and analysis: Support your topic sentence with relevant evidence, such as examples, facts, or quotations. Then, analyze the evidence and explain its significance in relation to your thesis statement.
Transition smoothly: Use transitional words and phrases to ensure a smooth flow between paragraphs and to connect your ideas logically.

Conclude effectively

Restate your thesis: In your conclusion, restate your thesis statement in a slightly different way to remind the reader of your main argument.
Summarize your main points: Briefly summarize the main points you discussed in the body paragraphs.
Provide a closing thought: End your essay with a final thought, reflection, or a call to action that leaves a lasting impression on the reader.

Revise and edit: After completing your first draft, take the time to revise and edit your essay. Pay attention to sentence structure, grammar, spelling, and punctuation errors. Ensure that your ideas flow logically and that your arguments are clear and well-supported.
Join the Conversation about this 5 Paragraph Essay Template
Do you have any tips or tricks for writing a 5 paragraph essay? Leave a comment below and let us know what you think about it. We'd love to hear from you.
Also, be sure to give this article a share on Facebook, Twitter, or Pinterest. We'd love to hear from you.
Moe Ideas for Teaching English Writing