If you want to learn the types of jobs and professions, you're in the right place. Check out this list of the different kinds of occupations right here.
Types of Jobs List
Have a look at this list of the different types of jobs.
accountant
architect
bus driver
carpenter
cashier
chef
dentist
doctor
electrician
graphic designer
hairdresser
lawyer
musician
nurse
paramedic
pilot
plumber
receptionist
software developer
teacher
veterinarian
video game tester
web developer
Kinds of Occupations (with Pictures)
Check out this list of the kinds of occupations in English.
accountant
architect
bus driver
carpenter
cashier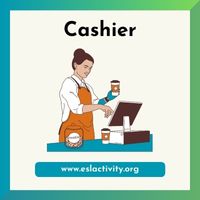 chef
dentist
doctor
electrician
graphic designer
hairdresser
lawyer
musician
nurse
paramedic
pilot
plumber
receptionist
software developer
teacher
veterinarian
video game tester
web developer
Kinds of Jobs Chart
Take a look at this chart with the different kinds of jobs.
List of Professions FAQs
There are a number of common questions that people have about types of jobs. Here are the answers to some of the most popular ones.
What is a plumber?
A plumber is a professional who installs and repairs plumbing systems, including pipes, fixtures, and appliances, to ensure proper water and sewage flow.
What does a graphic designer do?
A graphic designer creates visual content such as logos, posters, and websites, using design software to communicate messages or ideas effectively.
What is the role of a nurse?
Nurses provide healthcare services, including patient care, administering medications, and assisting doctors in hospitals, clinics, or other healthcare settings.
What does a software engineer do?
A software engineer designs, develops, and maintains computer software and applications, including programming and testing.
What is the job of a chef?
Chefs prepare and cook food in restaurants or other food establishments, creating menus, managing kitchen staff, and ensuring food quality and presentation.
What does a teacher do?
Teachers educate students in various subjects, helping them learn and develop essential skills in schools, colleges, or educational institutions.
What is a mechanic's role?
Mechanics repair and maintain vehicles, such as cars and trucks, by diagnosing and fixing mechanical issues to keep them in working condition.
What does a lawyer do?
Lawyers provide legal advice and represent clients in legal matters, including court cases, negotiations, and legal documentation.
What is a firefighter's job?
Firefighters respond to emergencies involving fires, accidents, and other disasters, working to save lives, property, and the environment.
What does an accountant do?
Accountants manage financial records, prepare tax returns, and provide financial advice to individuals, businesses, and organizations.
What is the role of a pharmacist?
Pharmacists dispense medications, offer advice on drug usage, and ensure the safe and effective use of pharmaceuticals in healthcare settings.
What does a construction worker do?
Construction workers build and repair structures like buildings, roads, bridges, and more, using various tools and materials.
What is a journalist's job?
Journalists gather, report, and write news stories, conducting research and interviews to inform the public about current events and issues.
What does a police officer do?
Police officers uphold the law, protect the community, and maintain order by patrolling neighborhoods, investigating crimes, and enforcing regulations.
What is the role of a social worker?
Social workers assist individuals and families in need, providing counseling, support, and resources to address social and personal challenges.
What does an electrician do?
Electricians install, maintain, and repair electrical systems, wiring, and equipment in residential, commercial, or industrial settings.
What is a dentist's role?
Dentists diagnose and treat dental issues, including cleaning teeth, filling cavities, and performing dental surgeries to maintain oral health.
What does a pilot do?
Pilots operate aircraft, ensuring safe takeoffs, landings, and flight during various conditions, such as commercial airlines or private aviation.
What is a librarian's job?
Librarians manage libraries, assist patrons in finding information, and organize and maintain books and other resources for public use.
What does a scientist do?
Scientists conduct research, experiments, and studies to expand knowledge in various fields, including biology, physics, chemistry, and more.
Occupations Quiz
Find out how much you've learned about the occupations in English with this fun quiz:
Learn More English Vocabulary
Now that you've mastered the names of some common professions, in English, it's time to turn your attention to some other areas. Here are a few suggestions:
Types of Jobs: Join the Conversation
Do you have any professions that you'd like us to add to the list? Leave a comment and let us know. We'd love to hear from you!