I love a good board game with friends! Some of your students do too. That's why they can be a fun ESL activity to incorporate into your classes. And this board game for giving advice ESL is a really fun one.
Some topics and grammar points lend themselves to this better than others. One that works particularly well is a problem/advice. You can come up with a simple problem, and then if the student lands on that square, they'll have to give a couple of sentences of advice.
It's as easy as that to have a fun, engaging wrap-up activity for should/shouldn't. It's the perfect way to help your students speak more fluently because they'll be having so much fun! Keep on reading to find out all the details you need to know about this advice teaching game.
Problem Advice Board Game for ESL Students
Time: 20-40 minutes
Level: High beginner to intermediate
Number of Students per Group: 3-5
Materials Required: Boardgame (one per 3-5 students), marker tokens (student supplied), and "dice" (I usually use coins).
This problem-advice board game is a fun way for students to practice this important skill. This board game is designed for my university students in South Korea, but you can make your own board in just a few minutes for any age level or topic.
Check out my homemade board game for an example and then get creative making your own-it really is a whole lot easier than you might think to make board games for ESL students.
How it works is that students read a problem and then they need to give some advice. For example, "I have a very strong headache." The advice could be, "Maybe you should drink some more water."
Another place to find board games is in the teacher's activity book for 4-skills textbooks like World Link, Smart Choice or 4 Corners.
You might also consider using a board game like this for an imperative activity.
Procedure for this Advice ESL Board Game: 
Each student gets a token (eraser, key, etc.).
Rocks-Scissor-Paper. The first students roll a dice (or uses 2 coins in various combinations. 2 heads=2, 1 tail, 1 head = 4, 2 tails =6) and moves the appropriate number of squares.
The student answers the question by giving some advice. If good advice, they stay there. If bad advice (judged by their group-mates), they move back the number of spaces they rolled. The teacher acts as a referee if required.
Some squares will have an action instead of a problem. For example, go back 3 squares, or switch spaces with the person on your left. The student has to follow that action if they land on that square.
The winner is the one that finished the game first.
You can see the game by clicking this link: problem-advice board game (you'll be taken to Google Drive).
I will always provide a small prize for the winner in each group. This kicks up the competitive level a little bit and students have some incentive to give a good answer to the question.
I always point out to my students that I will act as a referee in order to avoid fights within groups. This is especially important for kids to make this board game activity go more smoothly.
Do you Like this 4-Skills ESL Activity?
Do you like this problem/advice board game that gets your students reading, speaking and listening? Then you're going to love this book: 101 ESL Activities for Teenagers and Adults. 
There are dozens of fun, interactive activities that will help to keep your students having fun while learning English. Lesson planning is a breeze when you have so many top-quality ESL activities at your fingertips in seconds.
The book is organized into various categories: reading, speaking, listening, writing, warm-ups, reviews, etc. so that you can easily find what you're looking for. Never do the same activity twice in your class!
Where Can I Buy It?
The good news is that the book is available in both print and digital formats. Keep a copy on the bookshelf in your office as a handy reference guide. Or, on your phone for lesson planning in your favourite coffee shop. It really is that easy.
Sounds like exactly what you need for your lesson planning? You can check out the book for yourself over on Amazon:
—>101 ESL Activities for Teenagers and Adults<—
More about Board Games for ESL Students
Problem-Advice Board Game: Have Your Say!
What is your favourite activity or game for teaching problems and advice to students? Leave a comment below and let us know. We'd love to hear from you.
Also be sure to give this article a share on Facebook, Twitter or Pinterest. It'll help other teachers, like yourself find this fun ESL game.
Or, do you need some advice for teaching? Check this out: Tips for Teaching English Language Learners.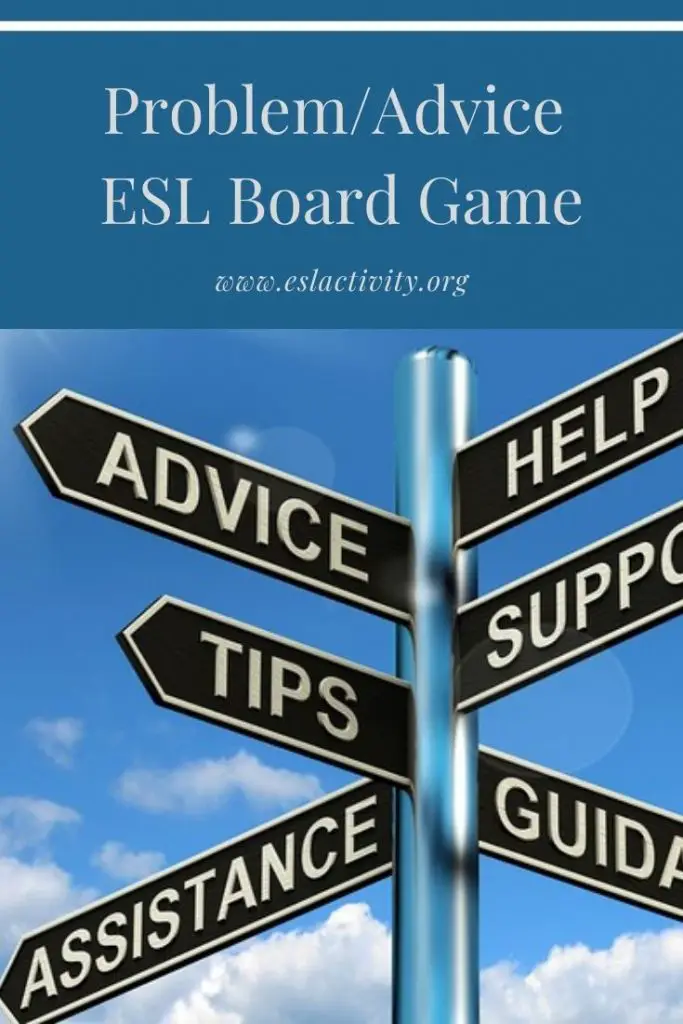 Last update on 2022-07-17 / Affiliate links / Images from Amazon Product Advertising API