Do you want to have a bit of fun in your ESL/EFL classes while helping your students remember new vocabulary words? Then you'll need to check out these vocabulary memory games. Keep on reading for our top picks!
Vocabulary Memory Games for Adults
If you're looking for some ways to help your students improve not only their language skills, then you'll need to use some of these ESL matching games. They're challenging but fun and make an excellent way for your students to improve their English vocabulary. 
They are not just for kids, but adults as well! Help your adult students have fun while learning some new English vocabulary with these top five memory games for adults. Let's start getting those cognitive juices flowing and make education challenging, but fun!
#1: Concentration Activity
This memory game makes an excellent test of memory skills as you place cards with words and definitions or pictures face down on the desk in an organized fashion. The students try to find a match by choosing one card, then the corresponding one.
If they're incorrect, they place the cards down in the same spot so the next student can use that information to make a better guess. If correct, they take the match and have another turn.
For beginners, you can use just a word and a picture. Some topics that work particularly well include animals, toys, jobs, colours, sports, clothes, telling time, school life, numbers, holidays, weekly schedules, (Christmas or Halloween vocabulary for example) or weather. Action verbs also work well. For example Cat-picture of cat. Or, 10-ten. Or, it's a fun preposition game.
For more ideas, check out: Weather ESL Games and Activities.
It really is an excellent way to help your students learn these basic things. And playing this ESL game is fun at the same time.
A quick tip: You can often use flashcards for this kind of memory game if the textbook you're using has a pack of them you can buy. 
Adjustable for Beginner-Intermediate-Advanced
Absolute beginners can also use it with the first letter of a word and a picture. For example C-Cat. This is a fun way to help students with their new ESL vocabulary.
For intermediate or advanced students, you may want to use words and a simple definition. For example, Geologist-this person studies rocks and other materials in the ground.
Finally, you may want to do opposites, or synonyms as well. I've also used this game with problems and advice. For example, I'm so tired all the time-Maybe you could try going to bed earlier.
You can learn more about this game for ESL adults, as well as kids here. It's actually ideal for all grades, including kindergarten, and adults. Exercise for the brain? Love it and this one is a classic. 
If you want to find out more about one of our favourite vocabulary memory games, click the link below to learn more: 
A sign that an ESL activity is a good one is a class full of engaged students. This activity is one of the best for that. 
This activity is also ideal for beginning students who are just learning about numbers. Find out more here: ESL Number Games. 
#2: Disappearing Text ESL Memory Game
This is another English vocabulary game that also helps your students with correct word order in sentences, or parts of speech. You write something on the board, and then it gradually disappears and gets progressively more challenging. It's excellent for children but could be played with beginner-level adults as well who are struggling with basic sentences.
Students really have to pay attention to what's happening.
Perfect for Reviewing Grammar or Vocabulary
Keep this one in your back pocket for a quick warm-up at the beginning of a class as a way to review previous ESL grammar or vocabulary. You can also use it as a useful time-filler at the end in those few minutes before class ends. Of course, it's most relevant if you review something you've just studied. 
You can find more details about this ESL memory game for kids as well as adults here. It's like a puzzle that the class has to solve together.
Do you want to find out more about one of the top vocab memory games? Then check it out right here, including all the details you need to know about using it in your classes, along with teaching tips so that you can avoid the most common mistakes with it.
Disappearing Text ESL Memory Game
#3: Dictogloss Memory Game for EFL/ESL Students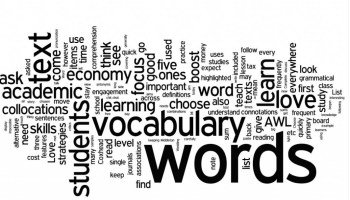 Dictogloss is an excellent ESL memory activity for higher-level students that has them recreate a story either by writing or speaking. It challenges them to get the gist, or big picture instead of focusing on every single small detail.
You can use it to focus on just about any aspect of the English language that you want, including vocabulary sets, grammar concepts, etc. 
Your students have to be comfortable with listening, as well as basic writing in order to play this so don't try it with absolute beginners. They also need to have a basic English vocabulary.
For best results, you'll need to use very clear pronunciation. Also be sure to choose a simple story, sentence or paragraph for the first time you do this. 
Alone, or in Pairs
This ESL game for adults or kids is a multi-skill activity that can be done alone, in pairs, or in small groups. It's super versatile-try it out for yourself and you'll probably find yourself coming back to it often as one of your go-to activities for your English classes.
Check out one of my favourite vocabulary ESL games here. My students love to play it!
#4: Memory Circle ESL Vocabulary Game
This makes a fun first day of class icebreaker if you have a small number of students, or you can use it as a thematic vocabulary review. It's actually an extremely flexible activity that can fit into just about any lesson. For example, something that works particularly well is using it to review irregular verbs.
You can easily change the level of difficulty for absolute beginners (a single word) to intermediate or advanced level students who have to say entire sentences. 
The only downside is that it's not for bigger classes as it's gets boring and too difficult. However, you can, of course, divide your students up into groups of 7-10 and play it this way. Elementary school students really like this one!
You can find out about the memory circle here that you can also use to train your mind to remember names:
#5: Running Dictation: A Classic, 4-Skills ESL Activity
If you want to energize your class, this is the activity you need! Seriously, look no further. Monday morning at 8am getting you and your class down. Try out running dictation to get a bit of life and energy back into your class. Or maybe you have a case of the Friday afternoon blues. Throw in this activity for some great results. It's a 4-skills activity that is simply one of the best things you can do in your class.
How Running Dictation Works
The basic way that it works is that one person goes around the class, reading sentences on little pieces of paper. They go back to their partner who is sitting down and dictate it to them. Then, to add another layer of challenge, the team has to make a dialogue or story out of their sentences.
It's like a word puzzle of sorts that requires a number of steps to get to the final solution. And the best part? It requires friends and teamwork to get the job done. 
Tip: You may want to specify whether or not correct spelling is required or not. This is often some conflict at the end if you don't. 
Try it out and see what your students think. I promise that you won't be disappointed! It's a fun, challenging ESL activity. More details about this popular 4-skills vocabulary ESL game that's a serious brain puzzle here. Your students will love playing it.
Do you want to find out more one of our favourite English games for adults? Then check out all the details you need to know about using running dictation with your English students today: 
Running Dictation: How to Set it Up
Learn more about Running Dictation Here:
Check out of the best videos for explaining how this memory game works:
#6 Classroom Memory Games: The Video or Picture Challenge
Another ESL memory activity for you! You can show your students a short video, and then tell them to be very observant because you're going to ask them some questions about it after. Pick a very easy video in terms of grammar and vocabulary so that the majority of the students will understand 95% of it. Some questions could include things like:
How many people did you see in the video?
What color was the first car that you saw?
Was anyone wearing glasses?
Etc. 
Or, put up a picture on the screen and give the students a minute or two to study it, and then ask some questions to test their powers of observation. Some example question could include:
How many people were in the photo?
What color of shirt was the woman wearing? 
How many kinds of fruit were in the picture? Bonus: Can you name them all.
This is a fun warm-up activity you can do. Bring a small prize for the most observant person and then suggest that they might want to consider being a police officer. 
This activity can work for just about any level including elementary or kindergarten students, except for the true beginner who knows almost no vocabulary. This is a full on memory challenge to test the mind that your students will love!
#7 Vocab Memory Activity: Free Reading and Writing Time
One of the best ways for students to remember new vocabulary is to read and write extensively, mostly just for fun. Okay, we know that it's not a game, but these things are indeed a great way for students to remember, and use new English words. It's a memory challenge of a different kind,.
You can require students to read outside of class for homework. Or, allow a few minutes each day for this in your classes, either at the beginning or end. The key is for students to choose books that are at their current level, or just slightly lower so that they'll be able to read relatively quickly without having to stop and look up vocabulary every few seconds.
To get your students writing more, you can get them to start a blog or keep a journal outside of class. Or, you can allow a few minutes in class for free writing time. I generally assign a question or topic of the day to my students, but allow them to veer off this if they wish. 
#8: Prepositions of Place Memory Quiz
Try out this simple online memory game with your students:
#9: Sentence Match
Create sentence cards by dividing sentences into two parts. For example, "I like to" on one card and "play soccer" on another card. Mix up the sentence cards and have students match the parts to create complete sentences. This game reinforces sentence structure and vocabulary.
#10: Category Match
Prepare cards with different categories written on them, such as "fruits," "animals," or "colors." Create corresponding cards with words or pictures representing items within each category. Students match the category cards with the correct items. This game encourages vocabulary retention and categorization skills.
Have your Say about these Memory Games for Adults!
What do you think about fun memory games for adults?  Do they help English learners practice vocabulary, grammar, etc.? Do you plan some of these games in your English classroom? Or, do you have some additional resources that you'd like to recommend to teachers?
Leave a comment below and let us know. And also be sure to contact us if you have any questions about teaching English.
Also be sure to give this article a share on Facebook, Twitter, or Pinterest. It'll help other teachers, like yourself find this useful resource for teaching English vocabulary.
Need More Ideas for ESL Games for Adults?
Sure, what English teacher doesn't, right? Then the book you'll need is 101 ESL Activities for Teenager and Adults. You'll have dozens of top-quality ESL games and activities at your fingertips. It includes brain games, icebreakers + warm-ups, vocabulary and grammar activities, plus things for reading, writing, listening and speaking.
It's lesson planning made easy, guaranteed.
The good news is that the book is available in both digital and print formats. Keep a copy on the bookshelf in your office as a handy reference guide. Or, take a copy with you on your phone on tablet for planning lessons in your favourite coffee shop.
Where Can I Order It?
Does it sound like what you need? You can easily find it on Amazon. Click the link below to find out more: 
—>101 ESL Activities: For Teenagers and Adults<—
Have your Say about these Memory Games for Adults
What are your thoughts about these ESL matching games for adults? Have you tried any of them out, or do you have your own memory game for students that you'd like to recommend? Leave a comment below and let us know what you think. We'd love to hear from you.
Also be sure to give this article a share on Facebook, Pinterest, or Twitter. It'll help other busy teachers, like yourself find this useful resource. 
Last update on 2022-07-17 / Affiliate links / Images from Amazon Product Advertising API