Many of our students say they want to practice their conversation skills. You can use these English conversation activities to help them do just that and to work on speaking more fluently at the same time. Keep in mind that these activities are not meant to replace a coursebook or textbook, but can be used to supplement it, such as in the last 15 or 20 minutes of class, or as a quick warm-up at the beginning.
#1: Conversation Starters for Adults
An excellent way to begin your class off is with an interesting question. Her are a few of those great questions that are guaranteed to get some discussion going. Remember to keep it student-centered and have them talk to each other, instead of as a whole class.
I find that groups of 2-3 students work best, instead of bigger groups. In this situation, everyone has a chance to talk, instead of the best student in the group dominating the conversation.
Learn more here: Conversation Starters.
#2: Cocktail Party to Practice Small Talk
This is a great way for students to practice small-talk by pretending that they're at a cocktail party. Often, the best ESL games or activities replicate real-life and this one does just that.
You can find out how to use this activity here: The Cocktail Party.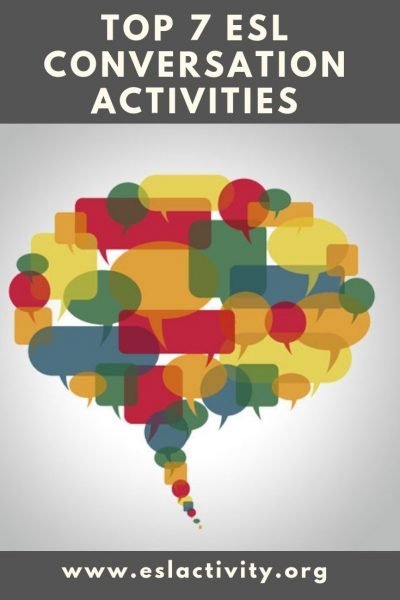 #3: The Small Talk Game
Another way to get students talking in English is by playing this conversational game. It's quite challenging, but also really fun and students always enjoy it. You can adjust the length of time up or down depending on the level of your students-shorter for beginners and longer for more advanced level students.
Learn how to set this activity up here: The Small Talk Game.
#4: Partner Conversation Starters
If you have very low level students that are unable to have a "real" conversation, try out these conversation starters. They are very structured and students will be able to get a feel for using English in a conversation.
Simply adjust the blank spaces depending on student level-more spaces for advanced and fewer spaces for beginners. It's an easy way to help your students build confidence with English.
Check it out here: Partner Conversation Starters. These short, simple questions are a good start to deeper, more meaningful conversations between and with your students.
Encourage follow-up questions so that students have to explain their answers.
#5: An Activity for the Hobby Unit
If you're studying hobbies, try out this fun ESL speaking activity that is student-centered awesome. You'll be able to just relax and have students do all the work, which is actually what you should be doing all the time anyways!
Teaching about hobbies? Get some help here with one of my favourite speaking activities: The Hobby Unit Conversation Activity.
Tips on Making your Classroom More Student-Centered
#6: Surveys for ESL Students
I'm all about using surveys in my classes and I make my students do them at least once a month. They're very, very useful for getting students to ask follow-up questions as well as talking to just about everyone in the class.
Plus, they cover a wide variety of skills in a fun, interesting way. But, when you teach your lesson, be sure to set up and explain this activity well for the best results.
You can find out how to use surveys in an EFL or ESL classroom here: Surveys for ESL Students.
#7: Presentation and Task-Based Learning Activities
Both public speaking and task-based learning lend themselves quite well to conversation, if you require the students who are listening to the presentation to ask some follow-up questions. Or, you could also have the student doing the presentation to prepare some discussion questions for after the presentation.
Try out these task-based learning activities in your classes today: Presentations or Task-Based Learning.
Try out these ESL conversation activities for adults in your classes today and you'll have your students speaking, listening, and having fun at the same time! One of my favourite topics is current events because they allow students to give opinions about what's happening in the world.  Students usually choose popular topics that lend themselves to further discussion.
Of course, these ESL Speaking Activities work much better for intermediate and advanced levels of students than beginners. However, I have had my high beginners do presentations with great success. The key is to assign quite simple topics and allow for lots of preparation time and coaching.
#8: Describe the Word Vocabulary Review Game
Having a decent vocabulary is key for students who are just getting started with English conversation. In some countries, this really isn't a problem as students learn new words in English from the time they are very little. However, in other places, your students may really struggle with it.
One way to help your students out, especially beginners is to do some vocabulary review games, like this one: Flip-Chart. The way it works is that students have to describe a term to their "captain" who doesn't know what it is. It works for almost any topic and students really like to play it. I'd actually consider it to be a sort of ESL information gap activity.
If you want to help your students out with this important skill and with describing things, you can learn more about it here:
Flip-Chart Vocabulary Review Game
Alternatively, you could write a list of words on the board (dispersed randomly) and students can take turns describing a word of their choice to a partner.
This activity is also ideal for holiday-themed classes. You can find even more ideas here: ESL Christmas Activities.
#9: The Expert TEFL Conversation Activity
If you have higher level students, then you're definitely going to want to try out this one at the beginning of the course. It's one of my favourite icebreakers because after all, who doesn't like talking about themselves?
The way it works is that students pick a number of topics that they're an expert in. Then, they narrow them down to ones that they think other students in the class will be most interested in. After that, you can match up the students and they can have a mini-interview/conversation with their partner about those things.
Find out more about it here: The Expert ESL Speaking Activity for Adults.
#10: Tell A Simple Story from the Past
You know the unit about simple past in your textbook? Yeah, there's almost always one, and it can get a little bit boring. However, you can make the old new again by doing this interesting conversation class activity.
Give students a topic related to something in the past. For example, a past vacation, or a fun memory from their school days. Allow students a few minutes to prepare and jot down a few notes (not full sentences).
Then, in groups of 4-5, each student takes a turn telling their story. Each member of the group has to listen carefully and ask at least 1 follow-up question, and the person has to answer them. For whatever reason, students really seem to enjoy this simple group conversation activity.
Like These English Conversational Games for Adults?
Do you like these conversation activities for adults? Then you're going to love this book: 101 ESL Activities for Teenagers and Adults. There are dozens of top-quality English speaking, listening, reading, writing, grammar, vocabulary and warm-up games and activities to help you plan your lessons quickly and easy.
The authors of the book have decades of experience in ESL and EFL classrooms with children, teenagers, university students and adults so they know what works. Learn from their experiences and find out how to vary the activities in your classroom. Your students really can have fun while learning English at the same time!
101 ESL Activities is available in both digital and print formats. The digital copy can be read on any device by downloading the free Kindle reading app. Have more than 100 top-quality activities with you on the go—anywhere you might plan lessons.
You can check out the book for yourself on Amazon:
English Conversation Activities: Have your Say!
What's your favourite one or two English conversation activities for teenagers or adults? Leave a comment below and let us know.
Also be sure to give this article a share on Facebook, Twitter, or Pinterest. It'll help other teachers, like yourself find this useful resource.
Last update on 2019-07-18 / Affiliate links / Images from Amazon Product Advertising API