If you're looking for details about task-based learning, then you're certainly in the right place. We're going to cover what TBL is, the steps involved in this type of lesson as well as some advantages and disadvantages when compared to a PPP style of lesson. Finally, you can find some task examples to consider trying out with your students. Keep on reading for everything task based instruction!
What is Task-Based Learning?
Task-based language learning is a kind of lesson that involves students completing a specific task using whatever language they deem necessary to do so. The goal is for students to use language in a more authentic way instead of prescribed vocabulary or grammatical structures.
To learn more about teaching languages, be sure to check out: Approaches and methods in language teaching.
What is a Task?
A "task" in a TBL lesson is a specific thing that students are supposed to accomplish in a pair or small group through meaningful communication. The task can vary but some examples are a presentation, another kind of media, completing an information gap activity, justifying an opinion or solving a problem of some kind.
What are the Steps in a Task-Based Language Teaching Lesson? Paradigm #1
There are a few discrete steps in this kind of lesson. Here is a simple overview.
Pre-Task
This is where the teacher introduces the task to the students. This can be done by telling the students about it, giving them written instructions or showing examples of completed tasks.
Also, be sure to set minimum expectations for the students so that the more unmotivated students know what is expected of them.
Task
Students complete the task with a partner or small group, using English for the majority of the activity. I circulate around the class and gently encourage this, as well as offering any assistance with language if students ask me. Also, be sure to monitor for any groups who have gone off track and assist them with getting back to where they should be.
The goal of this stage is fluency and communication. Don't expect a high degree of accuracy. The most important thing is that students are able to make themselves understood to their partner or group members.
Review/Feedback
This is where students present their task to the class, or at minimum, the teacher. I try to aim for peer feedback as well as teacher feedback but in some situations, this may be more difficult or more trouble than it's worth. Use your discretion. At this stage, the aim should be a higher degree of accuracy.
The teacher should take notes about incorrect use of language they hear more than once and use this as a basis for some class feedback at the end of the activity. Or, a topic to focus on in another class. For example, students are struggling with negatives in the past tense, or aren't sure how to form conditionals.
Steps in a Task Based Lesson: Paradigm #2
The three-step TBL lesson mentioned above is pretty standards. However, there are certainly more detailed templates out there. Here's one to consider.
Pre-Task
This involves giving the students instructions on what they're supposed to do. The teacher can show some examples of a finished project, or even play a recording or students doing the project, using English.
Task
Students complete the task in pairs or small groups. The teacher monitors and offers assistance as necessary.
Planning
Students prepare a short presentation for the class, talking about their completed task. I generally require that students memorize what they're going to say and don't read what's written on a piece of paper, word for word.
Report
Students report to the class how their task went, or share the results. Other students can offer feedback or ask questions.
Analysis
The teacher can highlight relevant language that the students either used really well or some things that students can improve on. This may form the basis of another lesson.
Practice
Students practice the language that the teacher selected as needing assistance with.
Advantages of Task Based Learning
There are a number of reasons why you might want to consider Task-Based activities over more traditional methods of language teaching. Here are a few of the most important ones:
It can encourage autonomy and responsibility for learning.
Students can use any of their language resources for completing a task, instead of just one specific grammatical construction.
There's an opportunity to make the language more personal.
The language comes from students' needs, rather than a prescribed sequence from a textbook.
Language learning can be more memorable if the task is designed well.
It's very student-centred.
Some students really enjoy working in groups.
Communication skills can improve as students are required to communicate with one another to complete the task.
They can be ideal for larger language classes because students are working together in groups and the teacher doesn't have to give individual feedback to everyone.
Disadvantages of Task Based Teaching
There are a number of disadvantages to this style of learning to keep in mind. Here are a few of the main ones.
Lesson planning can take a longer time than with something like a PPP approach.
Course books usually aren't designed for this style of teaching and it can take a lot of time to adapt them to this.
If students have very little in the way of the required language to complete the activity, then it can turn into a more traditional kind of lesson very easily.
You may encounter unmotivated students who are reluctant to try out something new in a language class.
The potential for a "bad" lesson is higher with TBL than with traditional methods.
Some students may not enjoy group work, especially if there is a wide range of motivation levels within a single class.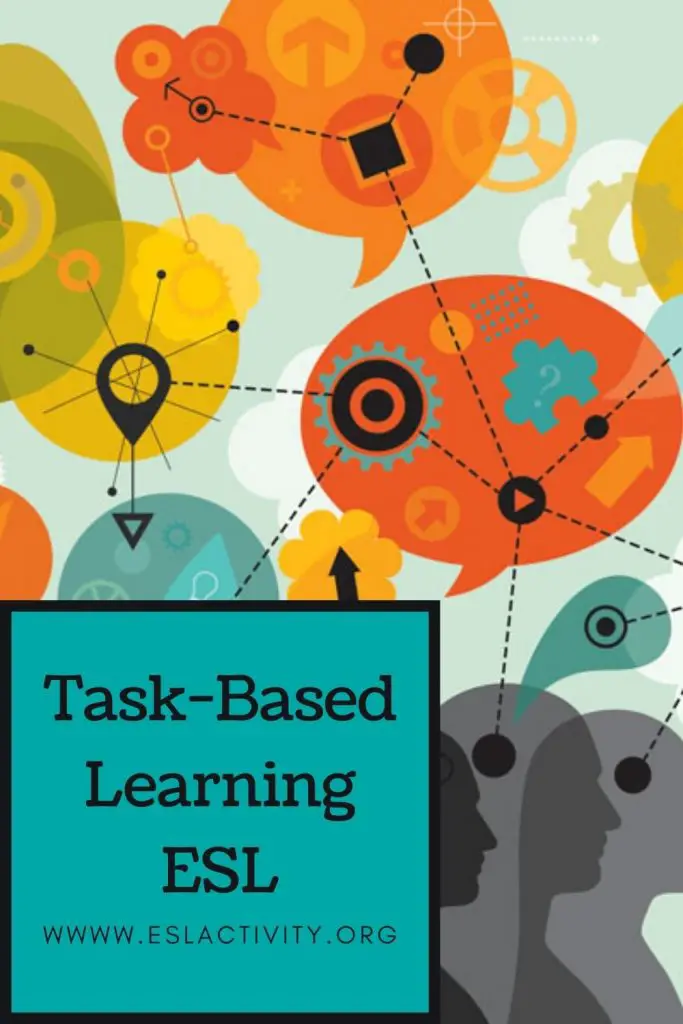 Problems you Might Encounter in a TBL Activity
There are a number of problems you might encounter during a task based lesson plan. These are usually avoided through careful planning though so it's certainly worth spending some time on this.
Tasks aren't Well-Designed
The biggest problem with TBL is that tasks aren't well-designed. They need to have enough of a challenge to them that students have to work a little bit hard to figure them out and complete them. However, they also shouldn't bit too difficult so that students feel like giving up. Aim for the middle ground here between the two extremes and you'll do well.
Tasks aren't Well Explained
Even the best-designed tasks sometimes fail if students don't know exactly what they're supposed to do. I like to come at it from a few different angles:
telling students about it
having instructions written down
asking ICQs (instruction checking questions) to test for understanding
circulating around the class, especially at the beginning of the activity to check and see if any groups are going down the wrong path
Students are "Lazy"
There are a number of reasons why students may do the bare minimum just to complete the task and be done with it. Some of these reasons include:
the task isn't explained clearly
it's too easy or too difficult
students aren't interested in the task
there is no rapport with the teacher
students don't like their group members
Of course, all of these things can be avoided easily enough! That's the good news.
Students can Complete the Task Easily in their First Language
It's sometimes the case that students get really excited about doing the task. This is good news. However, it's sometimes the case that it can be too easily done in a common first language.
To avoid this, set clear minimum requirements. For example, each group member must speak, in English for at least 30 seconds when giving your presentation. Or, you need to have at least 20 sentences. This will change depending on the task set.
What about the PPP Approach?
Traditionally, English teachers have used gone with the PPP approach when presenting new language to students. While useful, it does have a number of problems which is why many TEFL teachers are moving towards a more task-based approach. Here's a brief overview of presentation-practice-production and why you might consider TBL instead.
Steps in a PPP Lesson
The steps in this kind of lesson are:
Presentation
Practice
Production
The presentation happens in a variety of ways such as a text or dialogue (reading or listening). After that students are presented with the language and then they have some practice time. This starts with very controlled and gradually moves to a bit freer once students get more familiar with the language.
Finally, there's a free practice stage where students produce the target language without a lot of direction from the teacher.
What are the Problems with PPP?
There are a number of disadvantages to this kind of TEFL lesson. Some of them include the following:
Students may overuse the target language and it may not sound natural.
Students can complete the production of the lesson not using the target language.
There is some debate as to whether language learning is memorable beyond a few days or weeks.
It's for these reasons that people are shifting towards task-based activities for at least part of their language classes.
What are some Examples of a Task-Based Learning Activity?
There are a number of task based activities to consider doing in a language class. Here are just a few of my favourite task-based learning ESL activities:
Make a Video Clip
Students love using their cellphones so I like to go with the flow sometimes! In this case, I have students make a short video about something I want to target. For example, manners. I get students to choose a place (coffee shop, restaurant, on a first date, etc.) and then make a video talking about the important things to consider with regards to good (or bad) manners.
Find Something in Common
Here's a very simple example of a TBL activity. Students have to circulate around the class, talking to each other in English in order to find something in common with each other. They can use any language they wish to do so. Check it out: Finding Something in Common.
Plan a Road Trip
This is a fun activity that students really enjoy. Each group has to choose a place they'd like to visit and then plan a road trip. They can talk about places to see, how to get there, where to stay, famous restaurants to try, etc.
Information Gap (Jigsaw) Activities
Info gap activities are a classic example of a task. Each student has only part of the complete set of information. They have to get all the information through talking to their partner or group.
There are a number of different styles of this kind of activity but all of them involve some serious communication! Find out more about it: ESL Information Gap.
Plan a Class Party
This is a nice one if you actually do have the time and resources to have a class party at the end of the semester. Each group can plan what they'd like to do, within a certain budget. After presenting their ideas, the class can vote on which party they'd like to attend. And then, actually do it!
Odd One Out
This is a simple task that is also a nice warmer or review activity. There are four words in a group and students have to work together with a partner to choose which one doesn't fit and then say why. In a TBL lesson, make sure that you require students to do this in English. Check it out: Odd One Out.
Mixed up Sentences
This is a simple review activity that makes a nice task as well. Students have to work together with a partner to put words in the correct order in a sentence. They need to do this using English in order for it to be a task-based activity. Here are the details: Mixed Up Sentences ESL.
After Reading Activities
There are a ton of TBL activities that are possible after students read a novel, short story or another piece of writing. Here are some of my best ideas: After Reading Activities.
Postcards Writing Activity
This is a fun activity where students have to pretend they are on vacation and then write a postcard to someone. If you want to make it into a task-based learning activity, then require that students do this in groups and that they use only English to complete the activity. Find out more: Postcards TEFL Writing Activity.
Do you have a recommendation for a task based activity? Please let us know!
FAQs
There are a number of common questions that people have about task-based learning and teaching. Here are the answers to some of the most popular ones.
What is task-based ESL teaching?
Task-based ESL teaching is an approach that focuses on learners completing meaningful tasks to develop language skills and achieve communicative goals.
What are the benefits of task-based ESL teaching?
Task-based ESL teaching promotes active learning, authentic language use, and the integration of language skills. It enhances students' motivation, fluency, and ability to communicate in real-world contexts.
How are tasks selected in task-based ESL teaching?
Tasks in task-based ESL teaching are selected based on their relevance to learners' needs and interests. They should be meaningful, authentic, and provide opportunities for language practice.
What is the role of the teacher in task-based ESL teaching?
The teacher in task-based ESL teaching serves as a facilitator, providing guidance, support, and feedback throughout the task. The teacher encourages communication, monitors progress, and promotes language development.
How do students benefit from task-based ESL teaching?
Students benefit from task-based ESL teaching by engaging in meaningful and purposeful language use. They develop their language skills, improve their ability to solve problems, and gain confidence in using English for real-life situations.
How does assessment work in task-based ESL teaching?
Assessment in task-based ESL teaching focuses on evaluating students' ability to complete tasks and use language effectively. It assesses both the process and the outcome, considering fluency, accuracy, and communication.
Can task-based ESL teaching be used with learners at different proficiency levels?
Yes, task-based ESL teaching can be adapted to different proficiency levels. The complexity and difficulty of tasks can be adjusted to suit learners' abilities, ensuring that they are appropriately challenged.
What resources are used in task-based ESL teaching?
Task-based ESL teaching can use a variety of resources, including authentic materials (e.g., articles, videos), real-life tasks (e.g., planning a trip, giving a presentation), and multimedia resources to support language learning and task completion.
Have your Say about Task-Based Learning and Teaching
Do you have any experience with task based instruction? Or, some tips for planning a task based learning lesson plan? Please leave a comment below and let us know your tips or tricks. We'd love to hear from you.
Also, be sure to give this article a share on Facebook, Pinterest, or Twitter. It'll help other busy English teachers, like yourself find this useful resource.
References
Need more information about task-based language teaching? Check out some of these resources:
Last update on 2022-07-17 / Affiliate links / Images from Amazon Product Advertising API