If you're looking for some of the best Saint Patrick's Day ESL games and activities, then you're certainly in the right place. We have the best options to choose from, along with complete lesson plans and worksheets. Have some fun in English class with St. Patty's Day!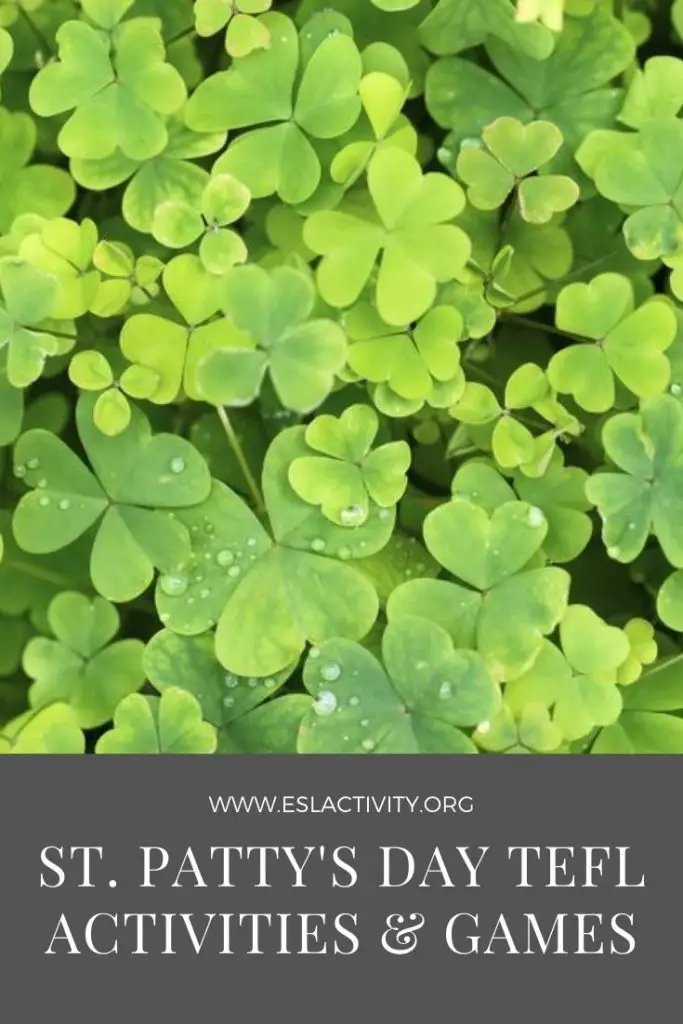 St. Patrick's Day ESL Game and Activity Ideas
Let's get to the best St. Patrick's Day TEFL games and lesson plan ideas.
#1: Reading Lesson on Saint Patrick's Day
Here's something I didn't know—just how easy it is to design my own ESL reading lessons on any topic, including this one! It all starts with a reading passage at an appropriate level. From there, follow the template and build out a complete lesson. Seriously. It's easier than you might think.
Want to give it a try for yourself? Learn how here:
#2: Chardes/Pictionary
A fun way to review key vocabulary is to use charades (acting) or Pictionary (drawing). Divide students into teams and have a number of words or phrases related to this holiday. Then, get ready to have some fun!
#3: Saint Patrick's Day History
This holiday has an interesting story behind it that most students don't know. There are a ton of interesting videos on YouTube that can form the basis for a holiday lesson plan.
#4: Word Association
Unless students are absolute beginners, it's often the case that they already know a fair bit of vocabulary related to this holiday. If you suspect this, consider doing this activity as a quick warmer. It's ideal because it can help students activate their prior knowledge, which will make any new words they learn more memorable.
Word association is essentially like making a mind map with words related to St. Patty's Day. For a smaller class, or for beginners, do this all together. For bigger classes of more advanced-level students, consider putting students into groups of 3-4 and they can do it together. Learn more:
ESL Word Association Activity.
#5: Wear Green!
One simple thing to do to celebrate this holiday is to encourage students to wear as much green as possible. I usually make it into a contest of some kind and have a small prize for the winner in each class.
#6: Saint Patrick's Day ESL Survey
Just ask my students and they'll tell you how much I love surveys! They are engaging, interactive and cover a range of skills within a single activity.
To do this one, think up a number of yes/no questions related to this holiday. For example:
Do you think St. Patty's Day is overrated?
Do you usually wear green?
Have you ever had green beer?
Then, students need to circulate around the class to find someone who answers yes to their question. Once they do, they can ask a follow-up question. Find out all the details you need to know about making your own TEFL surveys on any topic:
#7: Saint Patty's Day 3 Things Writing Activity
To use this activity for a lesson like this one, require that the 3 words chosen be related to Saint Patty's Day.
#8: Concentration Vocabulary Game
This is a fun way to review new vocabulary (see below for our Saint Patrick's Day ESL vocabulary). Make up matching cards, one card with the word and the other one with a simple picture.
In small groups, students mix up the cards and place them face down on a desk. The first student has to select two cards and if they match, keeps them and gets one point. If not, they have to make sure all students can see what's on the card and then place them down in the same spot.
The game continues until all the cards are gone. Want to find out more about it? Check this out:
#9: Odd One Out
#10: Man/Woman on the Street Interviews
If you teach adults, this can be a fun activity for just about any holiday. Have students interview each other to find out their plans for Saint Patrick's Day. Some people may say that they wear green and plan to go to an Irish pub while others may plan to do nothing because they think this holiday is overrated.
Whatever the case, it's interesting to find out what people think about it! Find out how to do it:
Man/Woman on the Street Interview Activity.
#11: Saint Patrick's Day Spelling Challenge
Try out this simple game that works well for beginners. It's ideal for reviewing the spelling of new vocabulary words, although you could also focus on meaning by giving hints about the word, instead of just saying it.
Whatever the case, it's a versatile activity that works well for ESL holiday lessons. Check it out:
#12: I'm an Alien
It's likely that your students already know a bit about this popular holiday before you teach them. If that's the case, consider using this simple eliciting activity.
#13: Password
Try out this simple vocabulary review game using holiday-themed words. It's low on the preparation and materials and makes a nice, last-minute activity.
However, students should know the words reasonably well before playing this game. Learn more about it:
#14: Dictogloss
Try out this challenging listening activity with higher-level students. Find, or write a passage about something talking about their experiences with St. Patrick's Day.
Put students into pairs and then read it out at quite a fast pace for the level of the students. They can take some brief notes, and with their partner, attempt to recreate what they just heard. Repeat the process again. Finally, students can compare their version with the original one. Check it out:
#15: ESL Saint Patty's Vocab Auction
#16: Fly Swat
This is a fun vocabulary review game that's ideal for helping students remember new words. Divide the class into two teams and one student from each team comes up the board and is given a flyswatter.
Give some hints about a St. Patty's Day word you have written on the board. The first student to slap the words get a point. Erase the word and replace it with a new one. Continue until everyone has had a chance to play. Find out more: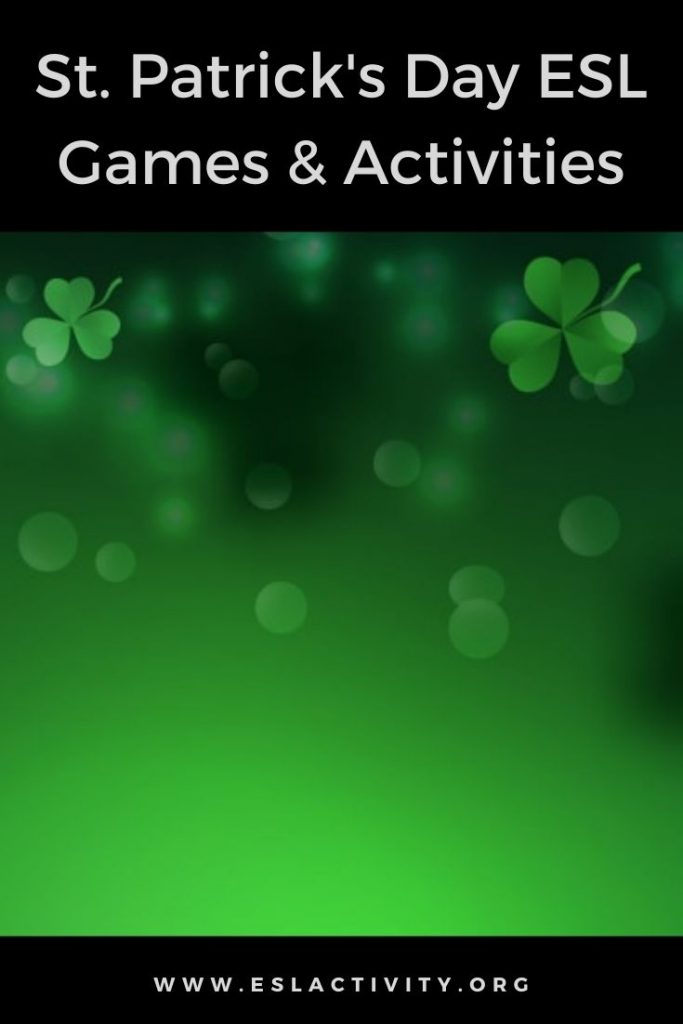 #17: Task-Based Activities
Something that my students really enjoy is a task-based activity related to the holidays. I put students into small groups and they each have to choose a different holiday.
Then, they need to do some research to find out the history behind the holiday, how people celebrate it, etc. They can make a poster or 1-2 PowerPoint slides and then do a presentation to the class.
Learn more about this style of teaching:
#18: Saint Patty's Day Running Dictation
Try out this engaging 4-skills ESL activity if you want to make your holiday lessons a little bit educational!
Saint Patrick's Day Worksheets
If you're looking for some puzzles, worksheets and trivia to celebrate this holiday in style, have a look at the top choices here:
St. Patty's Day ESL Lesson Plans
If you're a teacher, then you already know how much time it can save to use lesson plans that other teachers have already created. Here are some of my favourite options for Saint Patrick's Day lesson plans:
Or, plan your own:
Saint Patty's Day English Vocabulary
Here are some of the most common words to consider teaching students:
beer
church
four-leaf clover
gold
green
Guinness
horseshoe
Ireland
leprechaun
luck
luck of the Irish
music
pub
rainbow
saint
shamrock
Did you like these ESL Saint Patric's Day Ideas?
Yes? Then you're going to love this book you can easily find on Amazon: 63 ESL Holiday Games & Activities. The key to better TEFL classes is a wide variety of fun, engaging activities and what better way to do this than by celebrating the holidays?
There are activities for a variety of holidays, Christmas, Easter, Thanksgiving, St Patty's Day and more. Pick up a copy of the book and get ready to level-up your English classes with these fun ideas:

Have your Say about Saint Patricks Day ESL
Do you have any go-to games or activities for this popular holiday? Leave a comment below and let us know what you think. We'd love to hear from you
Also, be sure to give this article a share on Twitter, Facebook, or Pinterest. It'll help other busy English teachers, like yourself find this useful resource.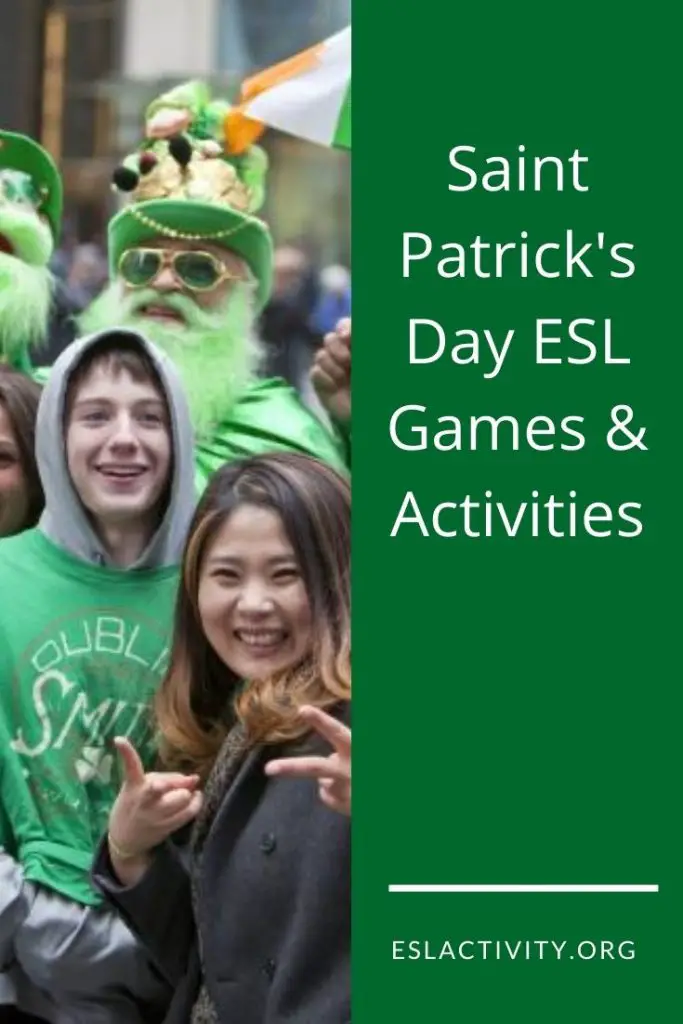 Last update on 2022-07-17 / Affiliate links / Images from Amazon Product Advertising API