If you want to learn the insect names of the most popular ones, you're in the right place. Stay tuned for the names of insects in English, along with pictures to help you learn them in a fun way. Keep on reading!
Insects are all around us, whenever we go outside, and sometimes even inside our houses, schools, and workplaces as well! It can be helpful to know the names of the various types of insects, in English. There are more than a million species of insects, with more to be discovered. However, you can see the most common ones right here!
Insect Names List
Check out this list of insects in English. Scroll down to see the pictures if you don't know what each one is.
ant
aphid
bee
beetle
butterfly
centipede
cockroach
cricket
dragonfly
fly
gnat
grasshopper
ladybug
louse
mosquito
moth
spider
stink bug
termite
wasp
worm
Insects Name with Pictures
Have a look at these insect pictures with names in English.
Ant
aphid
bee
beetle
butterfly
centipede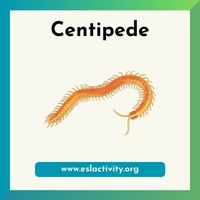 cockroach
cricket
dragonfly
fly
gnat
grasshopper
ladybug
louse
mosquito
moth
spider
stink bug
termite
wasp
worm
Insects Names in English Chart
Check out this chart with insects examples, along with pictures and their names in English.
FAQs about Insect Names in English
There are a number of common questions that people have about insects. Here are the answers to some of the most popular ones.
What are insects?
Insects are small, six-legged invertebrates belonging to the class Insecta, which is the largest group of animals on Earth.
How many legs do insects have?
Insects have six legs.
Do all insects have wings?
No, not all insects have wings. Some insects, like ants and beetles, have wings, while others, like spiders, do not.
What is the life cycle of an insect?
The life cycle of an insect typically consists of four stages: egg, larva, pupa, and adult.
Are all insects harmful to humans?
No, not all insects are harmful to humans. While some insects can be pests or transmit diseases, many insects are beneficial, such as pollinators and natural pest controllers.
What is the largest insect in the world?
The giant weta, found in New Zealand, holds the record for being the heaviest and one of the largest insects, with some species reaching lengths of up to 4 inches (10 centimeters).
How do insects breathe?
Insects breathe through tiny tubes called tracheae. These tubes deliver oxygen directly to the cells of their body.
How many species of insects are there?
It is estimated that there are over one million described species of insects, but scientists believe there may be millions more yet to be discovered.
Do insects have a skeleton?
Insects have an exoskeleton, which is a hard outer covering that provides support and protection for their bodies.
What is the role of insects in ecosystems?
Insects play vital roles in ecosystems. They pollinate plants, decompose organic matter, control pest populations, and serve as a food source for other animals.
Insect Name Guessing Game
Learn More English Vocabulary
Now that you've mastered some insect names, it's time to turn your attention to some other animals. Here are some other categories to consider:
Insects Names: Join the Conversation
Do you have any insects that you'd like us to add to this list? Leave a comment and let us know. We'd love to hear from you!