If you want to learn the transport names in English, you're definitely in the right place! We have all the transportation words in English. Keep on reading!
Transport Names in English List
Let's get into the means of transport. Have a look at this list of the most common words in English.
airplane
ambulance
baby carriage
balloon
bicycle
boat
bus
carriage
cement mixer
crane
dump truck
fire engine
forklift
helicopter
motorcycle
mountain bike
police car
recycling truck
rowboat
scooter
skateboard
subway
taxi
tractor
tram/streetcar
train
van
Transportation Vocabulary in English (With Pictures)
Check out the various kinds of transportation vocabulary, along with pictures and the name in English.
airplane
ambulance
baby carriage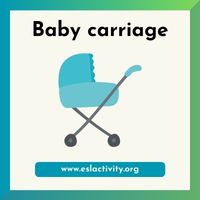 balloon
bicycle
boat
bus
carriage
cement mixer
crane

dump truck
fire engine
forklift
helicopter

motorcycle
mountain bike
police car
recycling truck
rowboat
scooter
skateboard
subway
taxi
tractor
tram/streetcar
train
van
Transport Names Chart
Check out this chart with the English transportation names.
Transport Vocabulary FAQs
There are a number of common questions that people have about transportation words. Here are the answers to some of the most popular ones.
What is a bicycle?
A bicycle is a human-powered vehicle with two wheels, pedals, and a handlebar.
What is a car?
A car is a motor vehicle with four wheels designed for passenger transportation.
What is a train?
A train is a series of connected vehicles that run on tracks and transport passengers or goods.
What is an airplane?
An airplane is a powered flying vehicle with fixed wings and engines that can carry passengers or cargo through the air.
What is a ship?
A ship is a large vessel that travels on water, typically used for transportation of goods or people across oceans or large bodies of water.
What is a bus?
A bus is a large vehicle designed to transport passengers on fixed routes, usually on roads.
What is a motorcycle?
A motorcycle is a two-wheeled vehicle with an engine that is ridden astride by the operator.
What is a subway?
A subway, also known as a metro or underground, is a rapid transit system consisting of trains running through underground tunnels within a city.
What is a ferry?
A ferry is a boat or ship that carries passengers and sometimes vehicles across a body of water, such as a river or a bay.
What is a helicopter?
A helicopter is a type of aircraft that is capable of vertical takeoff, hover, and landing. It has rotating blades on top for lift and propulsion.
Transportation Guessing Game
Learn More English Vocabulary
Now that you've mastered the transport names in English, it's time to turn your attention to other things. Here are some ideas to help you get started!
Transport Names in English: Join the Conversation
Do you have any kinds of transportation that you'd like us to add to the list? Leave a comment and let us know. We'd love to hear from you!